Cricket Protest Highlights State Bank of India's role in Funding Adani's Australian Coal Megamine
Image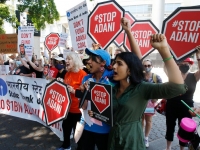 Cricket – easily India's favorite sport with over 760 million viewers tuning into televised matches every year – is always a major event across the subcontinent. So after the coronavirus pandemic shut down major sporting events, the Indian national team's first international match in Sydney, Australia, was a momentous occasion.
Less than an hour into the match this past November, two protesters sprinted across the Sydney Cricket Ground field, wearing t-shirts that read "Stop Coal #StopAdani Take Action," and carrying a sign with the words "No $1BN ADANI LOAN" under the logo of the State Bank of India.
Moments later, the 'Stop Adani' campaign released the following statement via Twitter: "Millions of Indian taxpayers who are watching the first game of the Indian cricket tour have a right to know that the State Bank of India is considering handing their taxes to a billionaire's climate-wrecking coal mine."
The Adani Group is a multinational conglomerate based in Ahmedabad in the Indian state of Gujarat, with diversified businesses in agribusiness, energy, logistics, military contracting and real estate. In 2010, Adani paid Linc Energy A$680 million to acquire the rights to mine for coal in the Galilee Basin of Queensland in Australia. One year later, Adani paid the state government A$1.98 billion for a 99 year lease to the North Queensland Export Terminal at Abbott Point Port. In 2014, the company proposed to build the Carmichael coal mine to extract and export 60 million tons of coal a year to India via a new 190 kilometer railway.
Environmental activists were alarmed. Tim Buckley, an expert at the Institute of Energy Economics and Financial Analysis in Sydney, labeled the project "a climate bomb."
Not surprisingly, some of the biggest energy lenders in the world - BNP Paribas, Barclays, Credit Agricole, Societe Generale, Citigroup, Deutsche Bank, Goldman Sachs Group, HSBC Holding, JPMorgan Chase, Morgan Stanley and Royal Bank of Scotland - refused to lend Adani any money for the project.
Enter the State Bank of India (SBI). Boasting over 24,000 branch locations and $730 billion in assets, SBI is India's largest bank. As a public entity, the SBI acts as the Indian government's bank, managing taxpayer dollars and paying off public debts when necessary. But as a commercial operation, SBI also makes loans like any other private-sector bank. Not least, Narendra Modi, the prime minister of India and the former chief minister of Gujarat, is reputed to be a good friend of Gautam Adani, the chairman of the Adani Group.
In 2015, the government of India signed a Memorandum of Understanding for SBI to make Adani a billion-dollar loan. However, after a political storm ensued, SBI walked away from the project in 2017. Now, news reports regularly suggest that that SBI may be ready to come back to the table, which was the impetus behind the protests at the Sydney cricket grounds.
Eye-catching though the cricket stoppage was, it was just one of many protests over the last decade, in which thousands of people have regularly rallied against the mine in all of Australia's major cities, signed petitions, and successfully put pressure on companies that have considered working with the Adani Group. Indeed, Market Forces, an environmental pressure group, maintains a running list of dozens of companies that have pledged not to support the Carmichael mine.
For example, Amundi, the largest asset manager in Europe, has publicly warned against the loan. "We consider SBI should not finance this project," Jean Jacques Barberis, director of Amundi's institutional and corporate clients division, told Reuters news agency. "It's their decision, ultimately, but we've been extremely clear on the fact that if they decide to do it, we would immediately disinvest [from SBI]."
The protestors also have the backing of the Wangan and Jalingouo people - traditional owners of the Galilee Basin – who accuse the Adani Group of resorting to underhanded tactics in order to procure mining leases.
"We are deeply concerned by our experience of misconduct, corruption of process, and stacking of a meeting to obtain a contract that signs away our rights to the land without our free prior and informed consent," Murrawah Johnson, a spokeswoman for the Wangan and Jagalingou Family Council, told the media after a recent court hearing. "Only those who put their hands up to mining deals are favored and promoted but when we say no to the opening up of the Galilee Basin, our traditional country, we are obstructed at every turn."
Notably the mine has been successfully opposed by local environmental activists like the Lock the Gate Alliance who have dogged the company at every turn, opposing every permit that it requests from the government.
In frustration, the Adani Group has sued activists like Ben Pennings of the Galilee Blockade, which conducts direct action protests agains Queensland coal mines. In an ominous twist, recently the Guardian newspaper exposed a scheme by the Adani Group to hire a private investigator to surveil Penning's wife and children. (Pennings has refused to back down. "The 'Stop Adani' movement is massive. I'm just one passionate person. They really can't sue all of us," he told reporters after a recent court hearing.)
Adani is admant that it is not backing down. "We will continue to comply with our existing project conditions and reporting commitments," the company told the Guardian. "We have undertaken the required engineering and modelling necessary to deliver the mine safely and in line with our approval conditions."
"The Stop Adani movement said our project would never go ahead and would never create a single job. We have proved our opponents wrong," David Boshoff, Adani's Australian CEO, added in a statement in September.
Meanwhile the close ties between Adani and Modi have also become a lightning rod in India where farmers have been staging massive protests against the government for passing a series of laws to reduce Minimum Support Prices for crops that are expected to harm individual smallholder farms.
"Crony capitalism in India is driving Indian farming communities to the brink - from deregulating agricultural laws for big corporates to the State Bank's 5,000 crore (AUD $1 billion) loan to Adani for their dangerous coal project," Manjot Kaur, spokesperson of the 'Stop Adani' campaign and an Indian-Australian, said in a media statement. "Farmers that are fighting for their existence are the ones who deserve support from the state bank and protection from the government, not billionaire coal companies like Adani."
This argument has resonated with Australian farmers too. "This is a fight many Australian farmers understand, and it's a fight we can't shy away from," adds Simon Gedda, a Queensland farmer who has joined the Stop Adani campaign. "It can be tough being a farmer, not only do we battle the elements and increasingly, climate change impacts, but we are now called on to protect farmers rights against billionaire coal barons."