Court Bans Shell's Plans to Look for Oil Off South Africa's Wild Coast
Image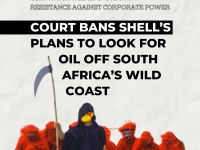 Shell was given a permit to explore for oil off the Wild Coast in the Eastern Cape province, South Africa in 2014. The permit was extended in 2021 by the Minister of Mineral Resources and Energy Affairs. In September 2022, the High Court in the city of Makhanda in the Eastern Cape ruled that the exploration permit was illegal.
"This victory is not just a victory for Wild Coast communities and making our voices heard. This is about protecting the planet and the whole of humanity." – Nonhle Mbuthuma, plaintiff and member of the Amadiba Crisis Committee.
Seismic survey
Shell proposed to conduct a seismic survey of an area of over 6,000 square kilometres of ocean off the Wild Coast, which would have involved blasting the sea bed with air guns every 10 seconds for a period of five months to map the presence of oil and gas by analyzing the reflected sound.
Impact on marine life
Experts say that the blasting will disturb, injure and kill zooplankton and krill larvae that other species depend on for food, such as dolphins and whales, notably the Right Whale which has been a protected species in South African waters since 1935. The blasting will also interfere with the sonar systems that these species use for communication and travel. Local fishing communities may also be impacted if the marine species are affected.
Urgent court action
One day before blasting was to begin, environmental groups like Greenpeace and Sustaining the Wild Coast filed an urgent request with the High Court in November 2021 to review whether the granting of the exploration rights was lawful in the first place and to permanently stop the exploration rights.
Applicants argued that:
- there was no consultation with affected communities and that consultation with traditional leaders was insufficient.
- the authorities failed to consider the harmful effect it would have on people's livelihoods, cultural and spiritual rights and the climate.
- the authorities failed to consider the interest of the entire community (fishers and ocean life as well), a requirement of the Integrated Coastal Management Act.
"The fight of coastal communities versus Shell is a struggle for environmental justice, for the protection of rural livelihoods, for sustainable development and for the life of the planet. Shell and the government are fighting for profit in the face of climate change that is putting the future of humanity at risk." – Sinegugu Zukulu, Program Manager at Sustaining the Wild Coast
Court ruling
Three High court judges - Judge President Selby Mbenenge, Judge Zamani Nhlangulela and Judge Thandi Norman - ruled on September 1st that Shell's permit was unlawful.
Company response
A Shell spokesperson said that the company "respect(s) the court's decision" and would review the judgment to "determine our next steps".
"We remain committed to South Africa and our role in the just energy transition." 
This is #21 in our series of Instagram infographics on resistance against corporate power.
Click here to see the full post on Instagram.
📸 © Greenpeace / Fixerfilm