Construction Company Bribery Scandal Threatens Spanish Ruling Party
Image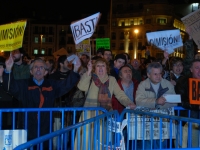 Top executives from three major Spanish construction companies - Fomento de Construcciones y Contratas (FCC) from Barcelona, Obrascón Huarte Lain (OHL) and Sacyr Vallehermoso from Madrid -
are in the limelight for allegedly contributing money to Partido Popular, the Spanish ruling party.

The conservative Partido Popular was in power from 1996 until 2004 when they were ousted in part because of popular anger against the war in Iraq. During - and even after their time at the helm - a series of undisclosed payments were allegedly made to senior party officials listed in handwritten notes kept by Luis Bárcenas, the party's former treasurer and his colleague Álvaro Lapuerta, that were revealed in El País newspaper last week.

El País lists chief executives of the three companies as having contributed to the slush fund: José Mayor Oreja, the CEO of FCC allegedly paid out €165,000, Jose Miguel Villar Mir, the chairman of OHL, is said to have contributed €530,000 euros while Luis del Rivero, the former chairman of Sacyr Vallehermoso allegedly donated €380,000.

The cash transfers appear to have begun in 1997, which coincides with the real estate and development boom in Spain. "During those giddy years few wielded more power in Spain than its lords of construction, a group of men who used the country's post-dictatorship economic miracle to build their companies into behemoths feared more than they were loved," wrote Miles Johnson in the Financial Times in an account of the era. "Of these, Sacyr Vallehermoso was arguably the brashest."

In fact, all three companies won billions of euros in Spanish government contracts and concessions during the boom times - Sacyr's toll road projects were once worth €7.9 billion. OHL reported €3.87 billion euros in road construction work in its 2008 annual report while FCC recently estimated that it is still owed €1.7 billion by Spanish local governments. (Both Sacyr and OHL  have revenues of about €5 billion a year while FCC is approximately twice as big)

Questions are now being raised about the possible connections between the lucrative public sector contracts and the Bárcenas payments, which came to light when the former party treasurer submitted details of a secret Swiss bank account to the tax authorities under an amnesty program set up shortly after Rajoy came to power. The account, which was operated by Bárcenas, held as much as €22 million at times.

Mariano Rajoy, the current Spanish prime minister, has been accused of personally receiving €25,200 ($34,100) a year from the slush fund over a period of 11 years starting in 1997 when he served first as minister of public administration and later as deputy prime minister.

Rajoy has denied receiving the money. "Never, I repeat, never, have I received undeclared money," he told an emergency gathering of the party's executive committee on Saturday. "It is not true that we received cash that we hid from tax officials."

The payments have also been linked to a similar bribery scandal involving Francisco Correa, a Partido Popular political "fixer" and businessman, who has been accused of paying some seven million euros in cash bribes, Jaguar cars, designer clothing, expensive Franck Muller watches and Caribbean holidays to win development contracts with local governments in Madrid, Castilla-La Mancha and Valencia.

Attorney General Eduardo Torres-Dulce has ordered the anti-corruption prosecutor to investigate the links between the Correa (known in Spain as the Gürtel scandal) and the Bárcenas payments.

Meanwhile close to a million people have signed an online petition on change.org demanding that Rajoy resign, while thousands of Spaniards have also taken to the streets of Madrid, holding nightly demonstrations in front of the party's headquarters.



AMP Section Name:
Construction