Companies Under Investigation for Deadly Grenfell Tower Fire Want Immunity
Image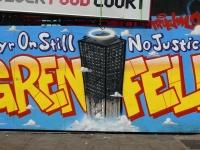 The companies that designed, manufactured, and installed cladding - a material used to wrap a building under construction - that caught fire at Grenfell Tower in London in June 2017, killing 72 people, have asked a UK public inquiry to award them immunity from prosecution, before they provide evidence.
Families of the victims have expressed outrage. "We and our clients have been genuinely shocked at hearing the corporate core participants seeking to defend the indefensible and trying to justify the unjustifiable," Balvinder Gill, a lawyer who spoke on their behalf, told the inquiry. "Each of these corporate core participants had blood on its hands and it cannot be washed off by the blood of others."
Grenfell Tower is a 67 meter high 24 story public housing tower block in the London burough of Kensington and Chelsea that was originally built in the early 1970s. Between 2012 and 2016, while the building was being refurbished, it was wrapped in Reynobond PE cladding, which is composed of two thin sheets of aluminium and a core of polyethylene – a plastic which melts and burns easily.
On June 14, 2017, an electrical fire on the fourth floor quickly spread, causing the tower's 127 flats to turn into death traps. After the extent of the catastrophe emerged, the UK government commissioned a public inquiry. The first phase, which examined what happened and recommendations for the future, concluded last year. The second phase, which began last week with a four day public hearing, is intended to determine the underlying causes of the fire.
The inquiry, which is expected to cost tens of millions of pounds to complete, will not result in legal charges - but simply serve to make recommendations on how to ensure that the tragedy is not repeated.
Under scrutiny are Arconic, a spin-off of the U.S. metals giant Alcoa, that makes Reynobond PE and Whirlpool, the makers of a Hotpoint fridge freezer that is believed to have overheated and started the fire. A slew of construction companies that worked on the refurbishments of the towers between 2012 and 2016, are also under being investigated: architecture firm Studio E; building contractor Rydon; cladding subcontractor Harley Facades; insulation manufacturer Celotex (a U.S. subsidiary of French multinational Saint-Gobain); and Omnis Exteriors, which manufactured the aluminium composite material; and CEP Architectural Facades, the company which fabricated the panels and windows.
At the hearing last week, every single company denied any responsibility. "Any member of the public reading those statements and taking them all at face value would be forced to conclude that... nobody made any serious or causative mistakes," Richard Millett QC, the inquiry's chief lawyer, said. "In every case, what happened was, as each of them would have it, someone else's fault."
But it got worse. On the second day of the hearing, the lawyers for Harley Facades, Rydon, and Studio E. formally requested that "nothing said by a witness in answers to questions in the inquiry will be used in furtherance of a prosecution against them."
Meanwhile, Arconic has spent an estimated £30 million on lawyers and advisors, to avoid any judgement of liability, to date.
Multiple emails, however, show that Arconic, in particular, was aware of the problems with the materials.
A 2011 internal report from Claude Wehrle, a certification manager at Arconic, stated: '[This] is dangerous on faces and everything should transferred to FR as a matter of urgency. It should have been discontinued over 10 years ago.'
Other emails have been uncovered from Deborah French, Arconic's UK sales manager, discussing the availability of samples of five different types of panels, all of which were known to be combustible, with the refurbishment contractors.
Celotex staff also sent an email in 2013 that confirmed the dangers of using the cladding at Grenfell. "We cannot seem to find or design a suitable barrier in which we have enough confidence that it can be used behind a standard ACM panel which we know will melt and allow fire into the cavity … Or do we take the view that our product realistically shouldn't be used behind most cladding panels because in the event of a fire it would burn?"
Arconic, Celotex, and Whirlpool are especially worried about the outcome of the lawsuit because they are also being sued in the U.S. by a pair of law firms: DiCello Levitt Gutzler, and Saltz Mongeluzzi Barrett & Bendesky. The lawsuit was filed in June 2019 in the Philadelphia County Court of Common Pleas. "We seek to hold these American companies accountable on their home turf to send a message that conduct like this will not be tolerated anywhere in the world," Mark DiCello, of DiCello Levitt, said in a press release at the time.
The victims families have vowed to keep up the fight. "It comes as no surprise how much corporates will spend to protect their reputations and hide from the truth, instead of ensuring people are safe," a spokesperson for Grenfell United, a group representing relatives and survivors, said. "Justice is not a fair fight, the systems are stacked against us, the general public. All we can do is keep faith that we have the truth on our side."