Communities in KwaZulu Natal, South Africa, Celebrate a Ruling Blocking the Expansion Of Somkhele Open Cast Coal Mine
Image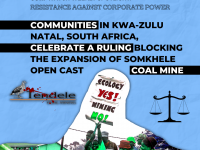 Tendele Coal opened the Somkhele coal mine in 2007 in the uMkhanyakude district of the South African province of Kwa-Zulu Natal. The mine activities have contributed to water scarcity, water contamination, destruction of the local landscape and noise pollution. In addition the company has failed to properly relocate local people despite promises to do so. Community members have unsuccessfully sued to shut the mine down. Now Tendele wants to mine another area in the north of the province that measures 222 square kilometres.
"I cannot remember a time when we could breathe fresh air in this area. I am not exaggerating. If it is not the scary explosions that break our windows, it is the dust killing our crops and giving us black water." — Makhosi Ndwandwa, community resident who lives less than 2 miles from the mine
Accusations of links to murder
Fikile Ntshangase, a local community member who was actively involved in the legal battle against the mine, was shot dead by three men who broke into her home in Ophondweni in October 2020. Her loved ones believe that she was assassinated because of her strong opposition to the removal of villagers to make room for the mine expansion. The assassins have yet to be found, despite pressure from the United Nations. Tendele denies any ties to the murder.
"The murder of Fikile Ntshangase terrified the community. Recently, death threats were issued to some activists by known people. Their homes were later torched. They had to flee the area. There is now a hit list, which is believed to be circulating targeting people who are opposing the mine's extension." — Janice Tooley, lawyer representing the mining activists
Unsuccessful bid to shut down the mine
In 2018, ActionAid South Africa, the Global Environmental Trust, Mfolozi Community Environmental Justice Organisation, Mining Affected Communities In Action and the Southern Africa Human Rights Defenders Network sued to stop Somkhele's expansion. In February 2021, the Supreme Court of Appeals ruled that there wasn't enough evidence to support the claims that Somkhele's mining activities contributed to water shortages and health issues.
Breakthrough
In May 2022, Pretoria High Court Acting Judge Noluntu Bam set aside Tendele's license to expand the mine on the grounds that the community had not been properly consulted. "It was a fundamental breach of the law with regard to public participation," Bam wrote.
"We celebrate this as a victory as it shows us that our journey as a community is going forward." — Local resident
Company response
Tendele's community manager said that it will address any issues brought up the judge and it plans to continue to further their future operations. "The planning remains in place for the future operations to continue as the Mining Right has not been set aside."
This is #9 in our series of Instagram infographics on resistance against corporate power.
Click here to see the full post on Instagram.