Climate Change: Interview with Pascoe Sabido about COP26
Image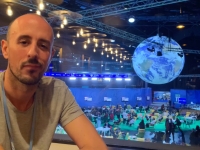 Pascoe Sabido, a campaigner with Corporate Europe Observatory,* speaks by video with CorpWatch about the annual meeting of the countries that have ratified the United Nations Climate Change Convention that is currently taking place in Glasgow, Scotland.
One of the biggest challenges for real progress, says Sabido, is the fact that the fossil fuel industry has infiltrated the negotiations in a major way. Some 503 delegates from over 100 oil and gas companies are attending the talks including quite a few who have been registered as members of government delegations by countries like Brazil, Canada and Russia.
"We've had a campaign for many years to try and kick out the fossil fuel industry and other big polluters from the talks," Sabido told CorpWatch. "Those trying to burn down the table shouldn't have a seat at it."
In order to show why this is a problem, Corporate Europe Observatory has published a couple of new reports for COP26.
The first is titled "Stop the revolving door: fossil fuel policy influencers" (published together with Friends of the Earth Europe and Food & Water Action Europe) which exposes the fact that between 2015 and 2021, six fossil fuel giants (BP, Equinor, ENI, Galp, Shell and Total) and five of their lobby groups spent some €170 million to hold 568 meetings with top level officials from the European Commission. In no less than 71 cases, former fossil fuel executives were appointed to government jobs or vice-versa.
The second report (published together with the Transnational Institute) is titled "COP26: the biggest finance greenwash event in history" is an analysis of the official 31 page "Private Finance" proposal for COP26, which makes recommendations about the role of the financial industry in tackling climate change. This proposal was drafted by companies like BlackRock, BNP Paribas, and JP Morgan Chase – and essentially suggests that the industry be allowed to police itself.
This is precisely the opposite of what needs to happen, says Sabido.
"More than 200 organizations are calling for a conflict of interest policy and a firewall to ultimately cut the fossil fuel industry out," Sabido told CorpWatch. "This is based on a brilliant precedent from the [Framework Convention on Tobacco Control where] the World Health Organization realized that to really regulate tobacco and to stop people smoking, it was impossible with the tobacco industry present and involved."
Indeed, almost 30 years after the Climate Change Convention was signed by 154 countries at the Earth Summit (officially known as the United Nations Conference on Environment and Development) in Rio de Janiero, Brazil, in June 1992, the world is much worse off than before.
In Brazil the countries agreed to reduce their greenhouse gas emissions to 1990 levels by the year 2000. In 2020, the levels were 47 percent greater than 1990 levels. There was also talk of trying to bring global atmospheric carbon dioxide levels below 350 parts per million (the level it was at in 1988), but now they are at 412.5. (And that's just carbon. With other gases, the level is now at 504)
Having failed miserably at these target, industries and governments are trying a new tack - net zero commitments – which is defined as a time at which they will no longer produce more greenhouse gases than they absorb. This - unfortunately - is a big scam because they are many ways to cheat and claim net zero. But what's even more galling is the fact that many fossil fuel companies and countries have set their net zero goals many decades in the future. For example BP, Equinor, Repsol, Shell, and Total have committed to 2050, thirty years from now, others at 2060 (Saudi Aramco) even 2070 (the country of India) which is 50 years from now.
To learn more, watch the video on YouTube here. ​​​​​
And to learn more about Corporate Europe Observatory's coverage of COP26, go here.
* Pratap Chatterjee is a member of the advisory board of Corporate Europe Observatory.