Citizens of Dubrovnik Defeat Razvoj Golf's Luxury Resort in Croatian Coastal Town
Image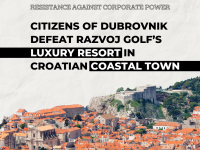 Residents of Dubrovnik, a coastal town in Croatia, have been fighting Razvoj Golf's proposed €1 billion luxury golf resort since 2010. After the project was annulled by a Croatian court in 2016, the company sued Croatia in a World Bank arbitration tribunal for US$500 million. In May 2023, the tribunal ruled against Razvoj Golf.
"I would like to congratulate all citizens who did not allow themselves to be intimidated by threats and lawsuits. This is a victory for both the city hall and the councilors of Srđ that the will of the citizens stated with the referendum is respected." – Đuro Capor, councilor of Srđ on Dubrovnik city council.
Razvoj Golf
Razvoj Golf, owned by billionaire Aaron Frenkel, proposed building a €1 billion luxury golf resort on Srđ hill overlooking Dubrovnik, a coastal town in Croatia and major tourist destination. The company proposed to build two golf courses, two hotels, 240 villas and 400 apartments on 310 hectares of land.
World Heritage site
UNESCO has designated the walled old city of Dubrovnik a World Heritage site because of its Baroque, Gothic and Renaissance monuments. City residents oppose Razvoj Golf's new resort (which is 20 times larger than the walled city). In a 2013 referendum organized by a community group named "Srđ je naš" ("Srđ is ours"), some 84 percent of citizens voted against the project.
Environmental concerns
The Golf Park Dubrovnik project is directed by Maya Frenkel, a former Croatian deputy minister and Aaron Frenkel's wife. Initially the project won support of the city council but a campaign by Srđ je naš and Zelena Akcija (Friends of the Earth Croatia) and a 2016 court decision overturning the golf course's environmental permit led to a cancelation of location permit in 2017.
Arbitration fight
Frenkel, an Israeli citizen, used Elitech, a Netherlands based letterbox company that owns Razvoj Golf, to sue Croatia under the Croatia-Netherlands bilateral investment treaty (BIT) and the Croatia-Israel BIT in 2017 and 2020 respectively at the World Bank's International Centre for Settlement of Investment Disputes (ICSID) for US$500 million. Elitech also sued Friends of the Earth Croatia for €30,000.
"We are being heavily targeted by the investor, and we are in peril of being shut down. We are afraid that, more and more, this is becoming a modus operandi against environmental defenders." – Enes Ćerimagić, lawyer for Friends of the Earth Croatia
Victory
In May 2023, the ICSID three-member arbitration panel ruled that Croatia was not liable in any way and that the claim for damages should be rejected. The lawsuit against Friends of the Earth Croatia is still pending. The company has not issued a statement in response.
This is #51 in our series of Instagram infographics on resistance against corporate power.
Click here to see the full post on Instagram.