Chevron Face Opposition Over Eastern Europe Fracking Plans
Image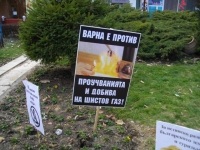 Chevron - the Northern California-based oil and gas company - has been quietly acquiring rights to drill for natural gas in Eastern Europe using "fracking" technology - a controversial technique. However, grassroots opposition in Bulgaria and Romania has thwarted the companies plans so far.
An interview with Ian MacDonald, vice-president of Chevron Europe, Eurasia and Middle East, in the Financial Times suggests that the company is getting ready for what it believes is the next fossil fuel extraction boom in the region.
"For years, it has been snapping up exploration acreage along a geological faultline that stretches from the Baltic to the Black Sea," writes Guy Chazan. "A crucial piece of its jigsaw fell into place in May when it won the right to negotiate a big shale gas contract in Ukraine. That left it with an almost continuous arc of concessions stretching from Bulgaria in the south-east to Poland in the north. The blocks in Romania alone cover 2,700sq km."
But the company faces an uphill political battle to the technology that has been blamed for contaminating local water supplies and even causing earthquakes. Bulgaria banned fracking in January after a major protest against Chevron's plans to drill in Dobrudja, the most fertile farm region in the country in January.
Chevron is also running into fierce opposition in Romania which has a moratorium on the technology. The company has licenses in the north-east and south-east Dobrogea region near the southern border with Bulgaria as well as for the in north-eastern Romania near the border with Moldova.
"We examined the Chevron contract and... encountered suspicious secrecy at all levels," says Nicolae Rotaru of Civic Platform in Romania. "We want a law to be worked out to regulate the drilling for shale gas in Romania ... It is dangerous for human life."
Others pointed out that the drilling would not even benefit the local people financially. "These royalties are so tiny that they cost almost nothing, the private operators who profit from the exploitation and give peanuts to the state," wrote Ilie Serbanescu in "Romania Libera"
The Czech republic is also considering a ban.
Western European countries have been fighting fracking too. France banned fracking last July after environmentalists and wine producers raised alarms about water pollution. Fracking was also recently briefly banned in the UK.
Why the opposition to fracking? Greenpeace explains here: "To access these reserves, fluid is pumped down a drilled channel (well) into the gas-bearing rock at very high pressures. This causes the rock to fracture, creating fissures and cracks through which the gas can 'escape'. The fracturing liquid generally consists of mainly water, mixed with sand and chemicals. Numerous different chemical agents are used, many of which are flagged as dangerous to humans and the environment (carcinogens, acute toxins).
"The fracturing of a single well requires a huge volume of water: around 9,000 - 29,000 m3 (9 -29 million litres). Chemicals make up about 2% of the fracturing liquid, i.e. about 180,000 - 580,000 litres. Only 15 - 80% of the injected fluid is recovered, meaning that the rest remains underground, where it is a source of contamination to water aquifers."
The contamination has shown up in unusual place. For example communities in the U.S. have seen tap water catch on fire in fracking areas. (Watch this YouTube video and this one from Time magazine)
Fracking can also dramatically increase the likelihood of earthquakes, according to recent research in Youngstown, Ohio, where residents were hit last Christmas Eve and again on New Year's Eve.
A new study from Cliff Frohlich, a seismologist at the University of Texas, Austin, just published in the Proceedings of the National Academy of Sciences, shows a high degree of correlation between local earthquakes and fracking. "Beginning in 2001, the average number of earthquakes occurring per year of magnitude 3 or greater increased significantly, culminating in a six-fold increase in 2011 over 20th century levels," Frohlich wrote. "This suggests injection-triggered earthquakes are more common than is generally recognized."
To learn more about the dangers of fracking, check out the film Gasland and the Drilling Down series in the New York Times.
AMP Section Name:
Natural Resources