Casualties of Katrina: Gulf Coast Reconstruction Two Years after the Hurricane
Image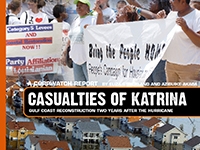 INTRODUCTION
This CorpWatch report, by Eliza Strickland and Azibuike Akaba, tells the story of corporate malfeasance and government incompetence two years after Hurricane Katrina struck New Orleans. This is our second report - Big, Easy Money by Rita J. King was the first - and it digs into a slew of new scandals.
We have broken the report up into three parts: the struggle by ordinary residents to return home, the major effort to fix the broken Gulf Coast infrastructure, and finally - what the future looks like for a regional revival.
Our first part opens with the story of people who simply cannot afford to return home because Entergy, the giant electricity company based in New Orleans, has jacked up prices; we then visit the people who are waiting for the insurance companies to pay them for the damage their homes suffered. We also visit the lucky few who were promised money to build new homes by the Road Home project, only to discover ICF International, the contractor running the program, has screwed up. The story of Gulf Coast evacuees after Hurricane Katrina would not be complete without looking at Fluor and Shaw, two of the companies who run the often contaminated trailer parks to which many are still confined.
The second part of this report is about the companies who are supposed to be fixing the region and protecting it from future hurricane damage: we look at the failure of Moving Water Industries to install working pumps at the levees, the companies that have profited by dumping the Katrina debris in and around the Vietnamese-American community of Village de l'Est and the refinery owners. We also take a look at the electricity and timber companies who have taken advantage of the emergency aid to expand, rather than limit, the impact of their environmentally destructive businesses.
Our final section looks at the prospects for the future: unexpectedly there has been a boom in the casinos of Biloxi, Mississippi, yet the local shrimping community has failed to recover. There has also been an influx of workers from Latin America but it is hardly because of an economic revival, rather an effort by local businesses to take advantage of the relaxation of labor laws. The same is true of a vaunted expansion in small business contracting, which turns out to be a mirage. Last, but not least, Azibuike Akaba examines the evidence: how much of New Orleans should be rebuilt, given the likelihood of future hurricanes in light of growing climate change?
Our report is about the problems that have yet to be fixed. While progress has been made in the states of Alabama, Louisiana and Mississippi, two years after Hurricane Katrina struck, much remains to be done, and this is intended as a guide to what has gone wrong, both as a lesson for future disasters as well as a call to support those who are yet to recover.
go to next article
go to table of contents
go to endnotes
go to fact sheet
click here to download pdf version of report