Bupa Aged Care Homes in Australia & the UK Regularly Rated 'Inadequate'
Image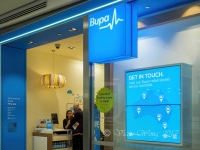 An inspection of Chilton Meadows, a care home for elderly people with dementia in Stowmarket, Suffolk, in March 2021, found a number of residents with "distressed behaviours" including one using a walking frame the wrong way round. The home also had radiator pipes carrying scalding hot water with no protective covering to protect residents who might have fallen on them.
Chilton Meadows is run by Bupa (British United Provident Association), a UK based international healthcare company. Founded in 1947, Bupa was originally a health insurance company. It now owns and runs clinics, hospitals and care homes in Brazil, Chile, Hong Kong, Ireland, Mexico, New Zealand, Poland, Spain, Turkey and the United States. All told, some 20,000 elderly people live in its facilities, with about a third of that number in Australia and a third in England.
Bupa in the UK
"I would hate it if my mother was in here, we just do not have the time to care for them properly," a staff member at Bupa's Saltshouse Haven Residential and Nursing Home in Hull, England, told investigators in 2015. Their response appears to be a pretty typical response of many staff.
Occasionally, some workers have described scenes of absolute horror. "It was like a concentration camp, somewhere where life no longer had any value," Eileen Chubb, a former Bupa worker and whistleblower who worked at the Bupa-run Isard House in Bromley, London, told The Oldie magazine. "[Staff] were pulling people, pushing them over, grabbing them, dragging them along, pulling their hair. People were covered in bruises, left in bed from 8pm until 4pm the next day without drink or food, soaked in urine and faeces, their skin starting to break down."
Hardly a year goes by without a scandal at a Bupa facility. In 2020, it was the Richmond Witney retirement village in Oxfordshire; in 2018 it was the Gallions View care home in Thamesmead in London; in 2017 it was the Greenfield Care Home in Lancashire; in 2016 it was Saltshouse Haven Residential Home in Hull; in 2015 it was Birch Court in Liverpool; in 2014 it was Beacon Edge Nursing Home in Cumbria and the Pentland Hill care home in Edinburgh ; in 2013 it was Oakhurst Grange in Sussex and in 2012 it was the Stonedale Lodge in Liverpool.
For example, in 2012, Karen Southern, the manager of Stonedale Lodge, was given an eight-month suspended jail sentence over the death of Joyce Farrow, a 90-year-old woman with dementia. Southern was convicted after Farrow's daughters testified in court that Farrow often fell out of her bed, had sores on her feet from crawling around and was often dirty and dehydrated.
Southern insists that she believed that Farrow was not neglected but accepted that she was responsible for what she called "lapses in care." "I wholeheartedly apologize to Joyce's family for the serious lack of care provided to Joyce while she was in my care," Southern said in a statement that her lawyer read outside the court after she was sentenced. "I fully accept I should have done more."
In 2018, Bupa was fined £3 million (the fine was later reduced by half) by the Ipswich Crown Court for the death of Kenneth Ibbetson in March 2015 after he contracted Legionnaire's Disease at Hutton Village care home in Essex where his family was paying the company £1,000 a week to take care of him. Within weeks of moving into the Hutton Village care home, Ibbetson began to feel unwell. Upon being admitted into the hospital, he was diagnosed with a lung infection and later died.
Bupa again admitted that it had failed. "We are deeply sorry," said Joan Elliott, managing director for Bupa Care Services. "Our thoughts are with Mr. Ibbertson's family and friends."
And the family of Mary Parkes says she contracted sepsis when she lived at the Gallions View Care home in Thamesmead, south-east London from 2009 to 2013, due to the poor standard of care. Her niece told the Guardian newspaper that the dressing on her aunt's leg ulcers weren't changed frequently enough, her teeth were neglected, her finger nails were filthy, she was left to feed herself, and mouse droppings were found in between her clothing and on her toothbrush.
(Bupa denies this. "Mrs. Parkes was well cared for by the team during her four years at Gallions View and we were sad to see her move out in 2013. Mrs. Viall made a number of allegations which we took extremely seriously and investigated," Rebecca Pearson, operations director for Bupa Care Services, told the newspaper)
Indeed, reports by the UK Care Quality Commission (CQC) showed that a total of 115 of Bupa's 290 homes were found to have serious and avoidable failures between early 2000 and 2015, according to "Breaking the Silence," a report by whistleblowers.
Some of Bupa's care homes have been deemed inadequate more than once. Beacon Edge in Cumbria was rated "inadequate" in both 2016 and 2017 by the CQC. "[We] disappointingly found limited progress has been made in addressing these, despite us telling Beacon Edge Care Home where they must improve," Debbie Westhead, deputy chief inspector for adult social care at the CQC, told the BBC. "We found that people using this service continued to experience avoidable falls and unexplained bruising and injuries, which is unacceptable."
"It is simply unacceptable that both taxpayers and self-funders are collectively paying millions for the worst standard of care while the shareholders and directors of care home companies' pocket enormous profits," Barbara Keeley, the UK shadow minister for social care, told the Guardian newspaper in 2018.
Some of the care workers are fighting back. Eileen Chubb, the former Isard House employee who blew the whistle in 1999, started an NGO named "Compassion in Care," that carries out independent undercover inspections of care homes in the UK. Over 10 years, she has inspected 330 care homes, and listed 120 problematic ones on the Tales Of The Uninspected section of her organization's website. "We're feared – and rightly so," she told The Oldie magazine.
Meanwhile, Bupa continues to deny that it cares about company profits. "Residents' welfare is always our number one priority," Richard Jackson, operations director of Bupa in the UK at the time, told BBC News in 2013.
Five years later, Rebecca Pearson, who succeeded Jackson as operations director for Bupa care services, continued to insist that was still the case, telling the Guardian newspaper that 80 percent of the company's homes were rated as good or outstanding.
In 2015, the company quietly began a process of auctioning off 200 of its UK care homes, apparently acknowledging that it needs to exit the elder care business.
Yet, to this day, the care at the remaining homes does not seem have to have improved that much, as the March 2021 report from Chilton Meadows in Stowmarket, Suffolk, shows. The company maintains that it is trying its best. "We are working together to implement long-term outcomes," Barry Yarnley, the managing director of Chilton Meadows, told the BBC.
Bupa in Australia
Given the controversial record of Bupa in the UK, citizen groups in Australia like Aged Care Crisis and medical experts recommended strongly against allowing Bupa entry into the elder care home management market, as long ago as 2007, when the company bid to buy up dozens of facilities.
"In regard to BUPA's suitability as an operator of aged care homes, the allegations that it was so commercially aggressive that it was prepared to under-fund and so compromise care is most worrying," Michael Wynne, a retired doctor and former professor at the University of Queensland, wrote at the time.
The Australian government ignored these concerns. Just ten years later, stories of mismanagement similar to those in the UK, began to emerge. In 2017, Michael Ashford, who had early onset of dementia as well as Down syndrome, died at a Bupa care home in Echuca, Victoria, after his sister has made repeated complaints about the quality of care, staff shortages, poor hygiene and living conditions as well as him contracting scabies. Bupa refused to admit to any wrongdoing to the family.
At a Bupa home in Sydney's lower north shore, a care worker named Prakash Paudyal, was sentenced to jail after being filmed hitting David Nabulsi, an elderly patient who had dementia, with a shoe in August 2018. A hidden camera recorded Paudyal pulling Nabulsi to the floor. Paudyal later said that he was stressed because he was working 55 hours a week at two jobs, to make ends meet.
And in 2019, Diane Daniels testified to a hearing of the Royal Commission into Aged Care Quality and Safety that Emily Flanagan, her 95-year-old mother with dementia who lived at Bupa's South Hobart aged care home, endured missed meals, faulty equipment as well as marks and bruises as a result of the rough handling by the staff. Daniels said that she found dried faeces on the floor of her mother's room, which took over a week to be removed. This was after an audit of that same facility in 2018 showed that it did not meet 32 of the 44 expected quality outcomes.
Indeed a 2019 report in Australia by the Aged Care Quality and Safety Commission (ACQSC), showed that over half of the 72 nursing homes run by Bupa that house 6,500 residents, were failing basic standards of care. Almost one third of the homes were putting the health and safety of the elderly at "serious risk."
"Totally unacceptable," Hisham El-Ansary, Bupa's chief executive officer told ABC television. "We are capable of much better, and we are working very hard to restore confidence in the services that we deliver."
But to add insult to injury, the Australian Competition and Consumer Commission (ACCC) has accused Bupa of charging residents for services like hot breakfasts, dementia smart rooms, covered outdoor exercise areas, large book libraries and travel escorts for outside appointments, that it routinely failed to deliver. "To charge people up to $100 a day — which amounts up to $35,000 a year — and not to provide them with all the services that you contracted to provide … I just think smacks of amazing indifference," ACCC chair Rod Sims told the ABC. "This was apparently going on for a long time."