Barrick Gold Compensates Rape Victims in Papua New Guinea
Image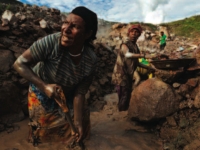 Barrick Gold, the world's largest gold mining company, has agreed to compensate 14 individuals for violent acts committed near the Porgera mine in Papua New Guinea. Eleven of the cases involved sexual violence such as rape. Some 120 others had previously accepted cash settlements of about $10,000.

The 25 year old Porgera mine is situated in Enga province in the forested highlands of central Papua New Guinea. The mine has long been controversial because of the massive environmental damage caused by the dumping of some eight million tonnes of mining waste into local rivers each year. The waste dumps attract poor locals who scavenge for gold in the dumps. In turn, Barrick Gold, which is based in Toronto, Canada, pays the local police to keep community members out.

A total of some 200 complaints of widespread violence by security personnel - notably against women and girls - have been filed over the last two decades. In 2011, Human Rights Watch conducted an investigation into the allegations and published a 94 page report titled: "Gold's Costly Dividend: Human Rights Impacts of Papua New Guinea's Porgera Gold Mine."

The same year, the Akali Tange Association, Porgera Land Owners' Association as well as MiningWatch Canada and Earth Rights International, a Washington DC based organization, filed a legal complaint against the company with the Canadian government.

Earth Rights published a statement from one of the victims who says she was assaulted when she was a student in fifth grade. "I was good at school, and I enjoyed it. I could have really made something of myself if I had been able to stay in school," the victim said. In 2010, together with two friends, she was duped into taking a ride with police officers at the mine and then raped. "After I was raped, everyone knew and my classmates were always talking about me. It was too difficult to deal with, so I dropped out. I tried to go back last year, but the kids said such bad things about me. I was so ashamed that I stopped going."

"Barrick's hired security guards were responsible for widespread violence in and around the Porgera Mine, including countless incidents of rape and gang rape," Catherine Coumans of MiningWatch Canada said in a press statement. "Barrick tried to push the problem under the rug for many years despite regular reports of human rights abuses committed by its security forces, documented by numerous researchers and human rights organizations."

In October 2012, Barrick offered the victims between 23,040 to 32,740 kina ($8,500 to $12,000) under a "remedial framework."

Roughly 90 percent of the victims accepted but 11 women refused together with families of three men who were killed near the mine. "It would be like accepting lollies as compensation," one of the victims told Fairfax Media.

Earth Rights International threatened to take Barrick to court in the U.S. The company countered with a settlement offer to pay the 14 victims substantially more than the other victims, with a caveat that exact details of the settlement be not disclosed. The offer was accepted by the lawyers and the victims.

Barrick has officially apologized for the incidents. "The sexual assaults perpetrated by employees at the Porgera mine in Papua New Guinea were appalling," the company said in a statement last November. "Addressing the needs of the victims has been a key priority for the company. Barrick believes the right to remedy is a critical element in addressing such human rights violations. The company worked with leading experts to develop a meaningful remedy program for women who were victims of sexual assault."

However Coumans says that the women who accepted the 2012 settlement deserve better. "This case, and a similar one at Barrick's North Mara subsidiary in Tanzania, raises serious concerns of equity for the victims," says Coumans. "Porgeran women who suffered similar criminal offences, but did not have independent legal council willing to file a credible law suit on their behalf, were clearly at a disadvantage, and their cases should be reviewed."

AMP Section Name:
Natural Resources