The Baku-Ceyhan Pipeline: BP's Time Bomb
Image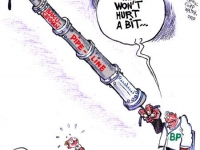 In recent years, British Petroleum (BP) has been working hard to remake its public image. Their well-crafted print and television ads feature upbeat electronic music and a vibrant new yellow and green starburst logo. With it's cutting-edge content on human rights, biodiversity and macro-economic theory, their website is designed to look like that of a developmental think tank.
In reality, BP is the world's third largest oil and gas company and one of the largest polluters on the globe. Exploration and production of crude oil and natural gas are the company's main activities and it operates in 100 countries in Europe, North and South America, Asia and Africa. Its revenues for 2003 were over $16 billion; its profits were over $10 billion.
BP's profits come with enormous human cost and environmental damages, and its latest venture -- the Baku-Tbilisi-Ceyhan (BTC) oil pipeline which opened in late May -- has done little to make amends.
BP is the lead shareholder in the 1,100-mile long oil pipeline, which runs from Baku, Azerbaijan, through Georgia to the Turkish seaport of Ceyhan. In addition to opening up an alternative supply to the US (which has long been in search of an oil source outside the Middle East), the project has led to allegations of human rights abuses, sparked regional conflict, and deprived local people of their livelihoods and land. By 2010, The pipeline is scheduled to deliver an estimated one million barrels of oil a day, predominantly to the already saturated Western markets.
The pipeline legal agreements also give BP effective governing power over a strip of land 1,750 miles long, where the company will likely override all national environmental, social, human rights laws for the next 40 years.
70 percent of the $ 3.3 billion it cost to build the pipeline came via loans from banks. A large proportion of this debt came from public financial institutions led by the International Finance Corporation (IFC), the part of the World Bank which lends to companies rather than governments) and the European Bank of Reconstruction and Development. This allowed BP to secure further private investment funding from banks like Citigroup. The additional thirty percent came in the form of equity (capital provided by the oil companies which hold shares in the project).
Construction began in May 2003 and the pipeline was officially declared open two years later, some 16 months behind schedule.
The construction of the pipeline has been monitored by the Baku-Ceyhan Campaign, a consortium of NGOs including the Kurdish Human Rights Project, The Corner House, Friends of the Earth and Environmental Defense. The campaign has uncovered 173 violations of World Bank environmental and social standards in the Turkish section of the project during the design stage alone. 
The project is governed by an Inter-Governmental Agreement (IGA) between the governments of Azerbaijan, Georgia and Turkey, which was drafted by BP's lawyers, and by individual Host Government Agreements (HGA) between each of the three countries and the BP-led consortium.
Georgia's new president, Mikheil Saakashvili, has described the Georgian agreement for BTC as "a horrible contract, really horrible". These agreements have largely exempted BP and its partners from local laws - and allow BP to demand compensation from the governments should any law (including environmental, social or human rights law) make the pipeline less profitable.
There is also concern that, rather than adding to the local economies in the areas surrounding the pipeline, BP will pressure the three nations to give them tax breaks.
BP already controls three major existing pipeline systems: the Trans-Alaska Pipeline System (TAPS, also known as Alyeska) in the USA, the Forties Pipeline System (FPS) in Scotland, and the Oleoducto Central pipeline system (OCENSA) in Colombia.
Over the last 30 years, BP has continually lobbied UK governments to lower the tax on oil extraction in the North Sea -- the location of the Forties pipeline. Today, the North Sea has the lowest taxation of any oil province in the world. BP followed the same pattern of driving down taxes, and thereby depriving the local communities revenue, in Alaska and Colombia.
Shattered hope
Despite widespread media pledges that the project would generate plentiful work, many communities expecting job opportunities have had their hopes shattered. In both Azerbaijan and Georgia -- areas where unemployment is already severe -- the pipeline has created very few jobs for local people. BP estimates the pipeline created about 10,000 temporary jobs during construction, but permanent positions are another story. In Georgia, for instance, only about 250 people will be permanently hired.
Ed Johnson, BP's former project manager in Georgia told the St. Petersburg Times, "People were told that there would be 70,000 Georgians that were going to be employed because of this pipeline. The (Georgian) government needed to sell the project to its own people so some of the benefits were overblown."
Many local people have also raised concerns over exploitation and lack of insurance for workers, corruption in recruitment and the outlawing of trade unions. Partly in consequence, there have been hundreds of strikes and disruptions to construction work, notably in the Krtsanisi and Borjomi regions, with more than 80 in the first six months of construction alone.
Corruption by officials in assigning land compensation, for both privately owned and municipal land, is an enormous worry in both countries. Concerns have also been raised regarding illegal occupation by BP of land not formally sold.
In October of 2004, members of the Baku-Ceyhan Campaign went on a fact-finding mission to Azerbaijan. There they met with several BTC workers who worked 12 hours a day, seven days a week (despite the fact that such a schedule is illegal in Azerbaijan). In Georgia, a national trade union "Georgian Trade Union Amalgation" held a demonstration against BTC arguing that both Georgian labor laws and those of the International Labor Organisation (ILO) were being violated due to the pressure on the workers to maintain a tight construction schedule. Similarly, BTC workers in Georgia are currently required to work 12-14 hours per day, including weekends and holidays, to secure a minimum subsistence salary.
The three host states have also stationed military units along the pipeline for protection. Amnesty International warned that the project could result in inferior rights of redress for some 30,000 people forced to give up their land rights to make way for the pipeline.
The Kurdish Human Rights Project has filed cases in the European Court of Human Rights on behalf of 38 affected villagers along the route, alleging multiple violations of the European Convention on Human Rights including the illegal use of land without payment of compensation or expropriation, underpayment for land, intimidation, lack of public consultation, involuntary resettlement and damage to land and property.
Ferhat Kaya, a Turkish human rights defender was detained and allegedly tortured in May 2004 as a result of his work with villagers affected by the pipeline. The trial of the eleven Turkish police officers who were accused of assaulting him lasted only 15 minutes. In a recent statement, Kaya said he believes the offences against him were "completely political."
"I am being subjected to these kinds of practices because I have been protecting the rights of the victims whose lands are affected by the BTC pipeline," he added. "The practices against me... are motivated systematically to intimidate and deter me."
Crossing Borjami
The Baku-Ceyhan pipeline runs the length of a major fault, and would be at permanent risk of serious spills due to earthquakes. In Georgia, and to some extent in Azerbaijan, the construction work has already led to local roads, drainage and irrigation systems being damaged, affecting the ability of local people to go about their daily lives.
In the Borjomi region of Georgia -- a lush tourist destination known for its stunning mountains and restorative hot springs -- local communities complain that pollution has affected the water and damaged tourism. The pipeline also crosses Borjomi National Park, a 195,000-acre nature preserve that is home to some 1,600 unique plant species and some of the last remaining Caucasian leopards in the world.
The Georgian government suspended work on BTC for a week last summer, following BP's decision to start construction in the ecologically vulnerable Borjomi region, despite its repeated failures to obtain the necessary environmental certification to proceed. According to the UK-based Independent, the resumption of construction two weeks later came as a direct result of political pressure. In fact the decision was announced immediately after an unscheduled meeting between President Saakashvili and US Secretary of Defense Donald Rumsfeld.
Since construction work began on the pipeline, there have also been various reports of construction problems and irregularities. In February 2004, the British Sunday Times revealed that a faulty paint had been used for the many of the joints in Azerbaijan and Georgia, potentially requiring the pipeline to be dug up and recoated. In June of 2004, there were reports from engineers working on the pipeline who documented a number of failings in pipeline construction methods, such as the use of inappropriate materials and a failure to hire proper specialists to advise on crossing seismic faults in the earthquake-prone region. One industry expert said "We are engineers, not soothsayers. Pipelines are designed on proven evidence to work. But in the case of BTC it has an in-built flaw and will eventually fail."
In November 2003, BP secretly suspended construction work on the Azeri and Georgian sectors of the project for 10 weeks after cracking was discovered in the pipeline coating. BP later admitted that more than a quarter of the Georgian joints were cracked. The company claims to have rectified the cracking with heat treatment; however, experience in other pipelines reveals that this solution does not work.
Beyond Petroleum
The new BP claims it is going "Beyond Petroleum." They acknowledge the challenges of climate change and publish a great deal of information about their efforts to reduce the emissions of greenhouse gases. Rather than suggesting that climate change is a theory, as many in the oil industry do, the company appears to want to reach environmentally savvy customers by admitting to their role.
Their website reads: "One of the great challenges facing mankind is the increasing temperature of the planet. This increase is believed to be associated with the production and consumption of carbon based fuels - coal, oil and gas - which all increase levels of greenhouse gases in our atmosphere."
Below the surface of their public relations efforts, however, BP continues to steamroll ahead with gas and oil production, prompting questions about just how serious they are about climate change. Once in full production, the Baku-Tbilisi-Ceyhan (BTC) pipeline will transport 365 million barrels of oil per annum. When burnt, this will produce 160 million tonnes of carbon dioxide (CO2) each year. To find out more about the Baku-Ceyhan Campaign, visit www.baku.org.uk
Hannah Ellis is an activist working for Friends of the Earth International.
183 Environment
184 Labor
190 Natural Resources