Asklepios Kliniken Under Fire for Staffing Shortages and Hospital Closures
Image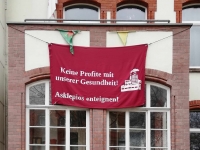 (eine deutsche Version dieses Artikels kann hier gelesen werden)
In mid-December 2020, Romana Knezevic, a nurse at the AK St. Georg hospital in Hamburg, Germany, gave an interview to Hamburg Journal on NDR television, over working conditions at the hospital. "The patients sometimes lie in their protective pants for hours," she said. "Patients die alone in their rooms."
Her remarks sparked a massive scandal as well as a movement.
The St. Georg is owned by Asklepios Kliniken, one of the three largest providers of healthcare facilities and hospitals in the country. Founded in 1984 by Bernard Broermann to capitalize on the privatization of government healthcare facilities, Asklepios now owns and operates over 75 percent of all the state hospitals of Hamburg. Indeed, the company claims that one out of every two births in the city-state of Hamburg occurs at one of their facilities. All told, the company has 35,000 employees and operates over 160 healthcare facilities in Germany.
Built 200 years ago by the city of Hamburg, the St. Georg is the teaching hospital of the University of Hamburg and the Semmelweis University and lies at the heart of the medical facilities in the region. It was run by the city until 2004 when it was privatized and sold to Asklepios.
Knezvic told the TV station that the company employed just one medical staffer for every five patients, despite the fact that the industry norm is one to two or greater. "This was the case even before the Covid-19 pandemic, there were very few nursing staff, especially intensive care staff," she said.
Knezevic, who also holds the position of work councillor at Ver.di (Vereinte Dienstleistungsgewerkschaft or United Services Trade Union), the second largest German trade union, said that the intensive care units were chronically understaffed. She revealed that nurses were often required to do janitorial work because the company did not hire enough cleaning staff. This put an especially heavy burden on the overworked nurses when the COVID-19 pandemic hit in 2020.
When asked what she believes need to change in order to improve the workers' and patients' conditions, Knezevic told the Hamburg Journal that the company needed to hire more cleaning and service staff. "It has to be ensured that Corona patients are evenly distributed to all Hamburg clinics and that of course needs to happen immediately," she added.
Executive staff at the hospital denied that there were staffing problems at the hospital. "Minimum staffing levels are monitored very strictly in St. Georg. The authorities regularly check this," Professor Berthold Bein, the head of the intensive care department at AK St. Georg, told the Hamburg Journal, when he was invited to speak on the TV show the day after Knezevic's appearance.
Twelve days after her interview on NDR, Knezevic was fired by Asklepios, setting in motion the Hamburger Krankenhausbewegung (Hamburg Hospital Movement.) A wave of complaints, protests and strikes by hospital workers began under the slogan "Health Instead of Profit" that gathered over 10,000 signatures.
Ver.di officials defended Knezevic's interview on Hamburg Journal. They argued that part of the job of a work councillor is to speak out on labor grievances, and that her job was protected under strict German laws that protect work council members against employer intimidation. "The attempt to fire a worker in the middle of the pandemic is clearly intended to silence critics of the austerity policy," Hamburg Hospital Movement said in a statement.
"The abuses mentioned are not just about our working conditions; they are about health care for everyone," a spokesperson for the Hospital Movement group told the Hamburger Morgenpost.
In February 2021, Asklepios Kliniken relented and allowed Knezevic to keep her job. In a comment emailed to CorpWatch, Mathias Eberenz, an Asklepios press officer, added: "It is our concern to strengthen the important job profile of nursing."
However, as the organizers of the Hamburg Hospital Movement noted, the controversy over the AK St. Georg is not isolated. The last four decades of privatization has transformed the healthcare field in Germany. Today, a little over one in three German hospitals are operated by private companies. These new owners have relentlessly cut staff and shut down unprofitable activities, contributing to the list of some 300 hospitals that have shut down in Germany in the past 20 years.
In the meantime, Asklepios Kliniken has been the subject of multiple media investigations for failing to provide services that it promised after buying up hospitals at below market value.
For example, Asklepios bought the Klinik Parchim in January 1998 in the small town of Parchim in Mecklenburg-Western Pomerania, a state in eastern Germany.
In June 2019, Asklepios shut down the children's ward of the Asklepios Clinic Parchim, obliging Parchim residents to travel 40 kilometres to the Schwerin Clinic, the nearest medical facility for children, which is operated by Fresenius, a rival company. ARD magazine reported that the Parchim children's ward was closed for economic reasons.
Asklepios denied that it closed the ward because it was unprofitable, but claimed that they were unable to recruit staff. "We didn't have a single application," Matthias Dürkop, the clinic managing director told Nordkurier newspaper. "With a heavy heart we have to face the realities and return our supply mandate for inpatient pediatric care."
A year later, Asklepios announced that it would open a paediatric day clinic in Parchim in collaboration with Schwerin Clinic but local residents have protested saying that the services provided were not sufficient because the day clinic is only open Monday to Friday until 5pm for routine care and minor illnesses. Children with serious illnesses still have to travel to Schwerin for treatment.
In an update from Asklepios provided to CorpWatch this August, Eberenz said that the company was working towards re-opening the clinic. "We have now hired a chief doctor for the children's department, she works there every day – and we are currently looking for additional staff and intend to reopen the children's ward as soon as possible," he wrote.
Another example of Asklepios Kliniken's failure to meet its obligations has been reported in the Goslar district in Lower Saxony, a rural area of central Germany, where the company bought the Bad Harzburg, Clausthal-Zellerfeld and Goslar hospitals for €15 million in 2013. The company signed a contract under which it was liable to pay fines up to €1 million a year in the event of a breach of contract.
In April 2020, the district of Goslar sued Asklepios Kliniken for €16 million for violating its contractual obligations. "Many patient rooms have been cleared, some are used as storage rooms or the ward rooms are in very poor condition," Maximilian Strache, the spokesman for the district, said. "Hospital care in the classic sense is not possible there."
In its lawsuit, Goslar charged that Asklepios had failed to install a functioning X-ray machine at Clausthal-Zellerfeld. Instead patients are expected to travel 20 kilometres to the Asklepios Harz Clinic in the city of Goslar for their diagnosis.
"Hardly anyone can afford a taxi and a bus trip to Goslar and back costs almost 10 euros. It hits those hardest who don't have much to live on anyway," wrote Norbert Hammermeister, a church district social worker in Clausthal-Zellerfeld, in a letter to the editor of Goslarsche Zeitung (newspaper). "Regardless of their income, everyone in Upper Harz is entitled to basic medical services. People always talk about wanting to strengthen the area, but unfortunately reality shows something else."
Conditions are not much better at the Asklepios Harz Clinic in Goslar where the urological department has been closed down.
"What kind of catastrophic conditions do we have in health care in the district of Goslar that the urological department in the hospital was closed?" chr.si1@web.de, a concerned citizen of Goslar, wrote to the Goslarsche Zeitung. "Only one thing will help: Asklepios & Co. has to be expropriated, because we contributors finance millionaires, yes, we create them in the first place! Many services can no longer be provided because greedy millionaires do business with us."
These complaints were dismissed by the Braunschweig regional court which rejected the lawsuit in January 2021.  
However, the Harz clinic is now under investigation by the public prosecutor's office in Braunschweig after the corpse of an 85 year old man who had been missing for several days was discovered in the clinic basement on May 18th, 2021.
And Asklepios has also been charged with collecting compensation payments from the German government for reserving beds that did not actually exist during the COVID-19 pandemic in 2020. (Bad Harzburg received €1.3 million and Goslar was paid about €6.6 million.)

The company told CorpWatch that they have not broken any laws. "We are convinced that we have acted in accordance with the applicable laws and regulations at all times, this applies in particular to the Hospital Financing Act," Eberenz, the Asklepios press officer, wrote in his email.
Meanwhile, Asklepios Kliniken has declared annual profits of between €100 and €200 million since 2012. Founder Bernard Broermann is now a billionaire, and has recently acquired Röhn Klinikum, another major private hospital provider in Germany, and even expanded his company into the luxury hotel sector with the purchase of three Kempinski hotels such as the Hotel Atlantic Kempinski in Hamburg.* 
* This article was updated on August 27th with comments received from Mathias Eberenz, a press officer for Asklepios.