Alstom Officials Paid Bribes To Win Indonesian Coal Contracts
Image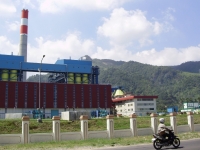 Alstom, a French engineering company, has been accused of bribing Indonesian officials to win a lucrative contract to build coal power plans in Sumatra. Frederic Pierucci, a French employee of the company, was arrested and David Rothschild, a U.S. employee, has pled guilty.
Perusahaan Listrik Negara (PLN), the state-owned electricity company, awarded a $118.26 million contract to Alstom and Marubeni of Japan in 2004 to supply and install boilers at the 200 megawatt Tarahan power plant in Lampung in southern Sumatra. Pierucci and Rothschild allegedly conspired to pay bribes to PLN executives as well as to Izederik Emir Moeis, a member of the Indonesian parliament from the Partai Demokrasi Indonesia Perjuangan (Democratic Party of Struggle).
"The charges allege that, in order to conceal the bribes, the defendants retained two consultants purportedly to provide legitimate consulting services on behalf of the power company and its subsidiaries in connection with the Tarahan project," the U.S. Department of Justice says in a press release. "In reality, however, the primary purpose for hiring the consultants was allegedly to use the consultants to pay bribes to Indonesian officials."
Last year the Corruption Eradication Commission (KPK) in Jakarta revealed that Emir spent some of the $300,000 that he alleged to have received on "adult entertainment" in Paris. "I was in Paris and invited to a dinner at Lido restaurant - the most well known restaurant on Champs Elysees, all tourists go there," Emir admitted to Indonesian reporters. "I drank wine and smoked a cigar with them (Alstom officials), that's all. I cannot even recall their identities now."
Emir has been accused of corruption several times - in 2006 he was alleged to have received 200 million rupiah ($22,500) for his role in the procurement of medical equipment to handle the bird flu epidemic. And in 2010, court hearings revealed that Emir had asked another politician to give out 9.8 billion rupiah ($1.02 million) in a vote-buying scandal.
Alstom has also been accused of paying bribes in the past. In 2011 the company paid out €31 million ($40 million) to the Swiss government for three cases involving contracts in Latvia, Malaysia and Tunisia. The company was accused of "failing to meet the standards for an international group employing over 75,000 people" and "corporate negligence."
Pierucci, who worked as vice president of global sales for the U.S. subsidiary of Alstom, was arrested last week at New York's John F Kennedy airport and charged by the U.S. Department of Justice with conspiring to violate the Foreign Corrupt Practices Act (FCPA) while David Rothschild, a former vice president of sales for the U.S. subsidiary of Alstom, pled guilty last November to one count of conspiracy.
Separately Eddie Widiono Suwondho, the former president director of PLN at the time the bribes were paid out, was sentenced last March to five years in jail for selecting PT Netway Utama to provide a computerized customer information system without proper competition, resulting in estimated losses of 46 billion rupiah.
AMP Section Name:
Natural Resources