Afro-Brazilian Community in Bahia Wins Certification, in Victory Against Luxury Resort Plan
Image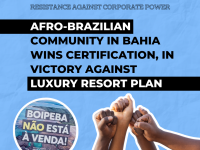 Boipeba, an idyllic island in Bahia state, has some of Brazil's most beautiful beaches. Mangaba Cultivo de Coco bought up a fifth of the island to turn it into a hotel resort threatening the local traditional community and ecology. In September 2023, the Ministry of Culture provided land rights for the local villages by certifying the residents as a traditional Afro-Brazilian Quilombola community. 
"I'm a native of Boipeba. I spent many years fishing, fishing for octopus, putting my arm in a crab hole, fishing in the Catu River. So how am I now going to accept that people come from outside and want to pollute such a beautiful place?" – Jenice Santo, Boipeba matriarch. 
Luxury Resort Plan
Mangaba Cultivo de Coco, a coconut growing company, bought up 1,651 hectares of public lands on Boipeba island, which lies just off the Atlantic coast of Bahia state in Brazil for R$20 million (US$16 million in today's dollars) in 2008. The company plans to build a luxury resort named Ponta dos Castelhanos despite the fact that the land lies within an Environmental Protection Area.
Afro-Brazilian Community
Several local communities on Boipeba island are made up of descendants of escaped African slaves who earn their livelihood from fishing, small-scale farming, gathering shellfish and mangaba (a tropical fruit common to the region). The island has also been recognized as a World Heritage Site by UNESCO because of its ecology that includes unique dense Atlantic rainforests, mangroves and sandbanks.
Mangaba Cultivo de Coco
Meanwhile Mangaba Cultivo de Coco (which is owned by a group of wealthy businessmen including José Roberto Marinho, owner of media conglomerate Rede Globo, and Armínio Fraga, president of the Central Bank) has acquired the the land for Ponta dos Castelhanos from Ramiro Queiroz, a former local mayor.
"We came to the understanding that they want to get us out of here. Nobody pays millions for a plot of land to have us, black men and women, fishermen and fruit pickers as neighbors." – Raimundo Esmeraldino, local resident.
Resistance
Residents of Boipeba used social media to call for the license to be revoked via an Instagram page and an online petition on Avaaz. Almost 100,000 people signed the petition which was submitted to the Environment Agency in March 2023. The Federal Prosecutor's Office, an independent government agency, has also petitioned the government of Bahia to revoke approval. 
Quilombola Certification
In early 2023, the federal government ordered Mangaba Cultivo de Coco to suspend the resort development for a total of 6 months. Meanwhile the Ministry of Culture provided local Afro-Brazilian communities with "Quilombola" status – a special certification of their traditionally historic role in protecting the land, and giving them the right to safeguard it from development. 
"The project meets all legal and regulatory requirements. It is planned that, among the 69 lots in the project, two of them will be allocated to the community for the construction of a Culture and Training Center, soccer field, sports equipment, and waste treatment station." 
This is #60 in our series of Instagram infographics on resistance against corporate power.
Click here to see the full post on Instagram.
📸 1/10 BOIPEBA NÃO ESTÁ A VENDA!!! by @hiltoncoelho50 - https://www.instagram.com/p/CuNXH3CJvvy/?img_index=3
2/10 Ilha de Boipeba-Piscinas Naturais de Moreré by Nianin - https://www.flickr.com/photos/15829363@N00/3052835583
4/10 Pôr do sol na Ilha de Boipeba, Bahia, Brasil by Tania Freire - https://commons.wikimedia.org/wiki/File:P%C3%B4r_do_sol_na_Ilha_de_Boipeba,_Bahia,_Brasil.jpg
5/10 Boipeba by Danielle Pereira - https://www.flickr.com/photos/galeria_miradas/5425768596