Activists Call for Suspension of Mandalika Mega-Tourism Project in Lombok, Indonesia
Image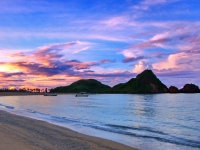 Activists are calling on the Asian Infrastructure Investment Bank (AIIB) to stop funding the $3 billion Mandalika project on the island of Lombok in Indonesia - which is led by the Vinci Group - after the United Nations released a damning report on human rights abuses at the site.
In August 2018, Vinci, a construction company based in Nanterre, France, signed an agreement with the Indonesia Tourism Development Corporation to build Mandalika, a complex of 10 hotels with 2,500 rooms on a 131 hectare site in the Batu Kotak Bay area. In addition Vinci is building a custom-designed global motorcycle race circuit designed to attract fans of the Grand Prix championships. Other companies that are taking part in the venture include Accor and Club Med, two major hospitality companies.
The Indonesian government has been hoping that Mandalika will emulate the success of Bali, the nation's most famous island, which has long attracted millions of tourists a year. To that end, it took out a $248.4 million loan from AIIB – a multilateral development bank created by the Chinese government – in December 2018 to help pay for the project.
Over the last three years, stories of violent evictions have surfaced. "They deployed around 700 personnel just for my land. I tried to prevent the bulldozers from entering but they dragged me away," Sibawai, a local farmer, told Agence France-Presse. Abdul Latif, another local villager, told the news agency: "We play cat-and-mouse with security personnel guarding the area."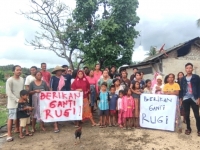 A newly released letter from the Olivier De Schutter, the United Nations Special Rapporteur on extreme poverty and human rights, addressed to Jin Liqun, the president of the Asian Infrastructure Investment Bank (AIIB) says that his research shows that developers ignored the local people.
For example, in the letter that was dated March 8, 2022 and released to the public two months later, De Schutter says that the Indonesian government admits that the 121 families who were evicted to make way for the project were paid just 10 million Indonesian rupiah (approximately US$695) per household to buy land at Dusun Ngolang while 96 individuals who were cultivating the land were reportedly given just 4.5 million Indonesian rupiah (approximately US$313) per 100 square meters. He also notes that a few local people have been hired to work as construction workers or cleaners at 50,000 Indonesian rupiah a day (approximately US$3.50)
"Vulnerable communities, including the Indigenous people in Mandalika, lost their right to participate in public decision making in an atmosphere free of intimidation," Wawa Wang, a senior adviser at VedvarendeEnergi, a Danish NGO focusing on development and environmental issues, told Equal Times. "In addition to lost livelihoods, many now live in crippling poverty since the project was approved."
Even sports journalists who have visited the race track have weighed in. "There were still families living inside the circuit perimeter in November; hardly a positive image for our sport," wrote Simon Patterson in The Race. "It leaves a sour taste that the series is heading to race on what has been alleged as being 'stolen' land."
De Schutter has been campaigning to get AIIB to act on this matter for over a year. "Farmers and fisher folks have been expelled from their land and seen the destruction of their houses, fields, and cultural sites for the construction of a mega tourism project in Indonesia. Vinci, Club Med and Accor should make sure they are not complicit," wrote De Schutter on Twitter in March 2021. "The time has passed for racing circuits and massive transnational tourism infrastructure projects that benefit a handful of economic actors rather than the population as a whole."
AIIB initially claimed that there were no problems at the construction site. "AIIB acted swiftly by commissioning an independent consultant to engage with a broad range of stakeholders," the bank claimed in April 2021. "The final report found no evidence of the alleged coercion, direct use of force and intimidation relating to land acquisition and resettlement. Further, the report found that following a complaint to the Indonesian Commission on Human Rights concerning 17 plots of claimed lands, the Commission found no evidence of alleged illegal land acquisition and/or intimidation."
However, AIIB later acknowledged that it has made mistakes. "Some lessons learned from the Mandalika project include carrying out an improved assessment of a client's capacity to implement the project-level environmental and social instruments, ensuring there are an adequate number of qualified staff being a condition to release of funding, improving the assessment of legacy issues and the use of locally based consultants," an AIIB spokesperson told Equal Times last September.
After De Schutter released his latest letter, the Coalition for Monitoring Indonesia's Infrastructure Development, issued a call for AIIB to act. "We urge the AIIB to immediately suspend its financing of the Mandalika project," said Mohammad al Amien, coordinator of the NGO coalition. "AIIB must also immediately require its clients, the ITDC and the government of Indonesia to disband the land acquisition task force composed largely of the military and police forces in Mandalika which employs tactics of intimidation and movement restriction on the affected people."