Zimbabwe High Court Blocks Construction of Formula One Auto Race Track on Hwange Grazing Lands
Image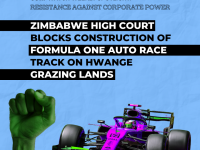 Feonirici LLC, a Dubai based investment company, hired Stelix Civils, a construction company in Zimbabwe, to build a 5.4 kilometre long motor racing circuit in Hwange, close to the border of Botswana and Zambia, that they hoped would become the first ever Formula One track in Africa. The company evicted over 100 villagers from the proposed site who then sued to stop the project. The Bulawayo High Court ruled in favor of the villagers in September 2022.
"Villagers in Chibode, Kachecheti and Nemanana wards have been living on the land for about 66 years now and this is the only home they have known. They rely on this land for their livelihoods through livestock rearing and subsistence farming." – Mthembisi Mayo, representative of the villagers.
Grand Prix Arena 
In 2018, Feonirici LLC, an investment company owned by Prince Adebayo Bamidele Oni, proposed to build an international grade motor race track together with accommodations, medical centre, shopping mall and a theme park to attract tourists to the town of Victoria Falls, Zimbabwe. The $1.2 billion project was projected to host 4-5 major competitions a year.
Community opposition to the project
With the help of Josephat Tshuma of Zimbabwe Lawyers for Human Rights, villagers from Chibode, Kacheti and Nemananga wards sued the Hwange Rural District Council for leasing the land to Stelix Civils. The residents argued that they were not offered alternative land or compensation, and that the noise from the races would negatively impact the locals and their livestock.
"By the time we got to know of the project, the third respondent (Stelix Civils) had already fenced off 500 hectares of the land and our livestock have not been able to gain entry to the grazing area." - Mthembisi Mayo
Impact on wildlife
The proposed location lies close to Hwange National Park in the Kavango-Zambezi Transfrontier Conservation Area (KAZA). KAZA stretches through Angola, Namibia, Botswana, Zambia and is home to nearly half of Africa's elephants, wild dogs, rhinos, lions, buffalo, zebras, crocodiles and cheetahs. Noise from the racetrack was likely to drive these animals away from the area, says Clement Mukwasi, a local tourism expert.
Court ruling
In September 2022, Justice Evangelista Kabasa of the Bulawayo High Court ruled that the decision to lease the land was in violation of the law, nullifying the lease agreement. Stelix Civils was ordered to remove the fence within 48 hours. 
New location
Stefano Domenicali, CEO of Formula One Group hopes to find another location for the racetrack. "There are other places in Africa that are interested in Formula One. That's a very clear target: Africa will come back and hopefully very soon on our calendar."
Company response
There has been no response from Stelix Civil or Feonirici LLC.
This is #26 in our series of Instagram infographics on resistance against corporate power.
Click here to see the full post on Instagram.