Wells Fargo Pays Navajo Nation $6.5 Million over Predatory Business Tactics
Image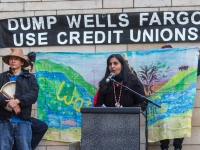 Wells Fargo bank, based in San Francisco, California, has agreed to pay the Navajo Nation $6.5 million for its alleged predatory business tactics. The bank was accused of targeting vulnerable members of the Navajo community, including elderly people who did not speak fluent English, with predatory banking practices.
The Navajo Nation is the largest government recognized Native American indigenous community with over 350,000 members and a territory that encompasses lands in Arizona, New Mexico and Utah. It has an elected government and its own judicial system.
"Wells Fargo's predatory actions defrauded and harmed the Nation," said Navajo Nation President Jonathan Nez. "We held Wells Fargo accountable for their actions and we will continue to hold other companies accountable if their business practices do not respect our people — this puts other companies on notice that harmful business practices against the Navajo people will not be tolerated."
Employees of the bank, which has five branches on the reservation, often lied to Navajo consumers, telling them that they could not cash checks that they had received unless they opened savings accounts with the bank, even though this was false. Elderly tribal members who were less fluent in English were often targeted. The bank staff also regularly opened online bank accounts and issued debit cards to these customers without getting their permission properly.
Nor was this confined to the Navajo. Some 3.5 million unauthorized deposit accounts were created over time for customers around the country who were charged hundreds of millions of dollars in unjustified fees.
"I didn't sign up for any bloody checking account," Brian Kennedy, a retired man in Maryland, told CNNMoney. "They lost me as a banking customer and I have warned family and friends."
Blame for the misconduct was ultimately placed on upper management levels who treated bankers like salespeople by aggressively pushing 'sales goals'. John Stumpf, Wells Fargo CEO at the time, resigned in 2016 one month after a U.S. congressional hearing that saw current presidential candidate and senator from Massechusets, Elizabeth Warren, berate the executive, calling his leadership "gutless" and that he should resign and be "criminally investigated."
To date the company has paid out almost $3 billion in fines for this scandal. Some 5,300 Wells Fargo employees have also been fired.
The corporate culture at Wells Fargo grew from the ideas of former CEO, Dick Kovacevich, who arrived at the position after the merger with Norwest Bank in 1998. Kovacevich saw bank branches as "stores", bankers as "salespeople", clients as "customers", and financial instruments, such as A.T.M. cards, checking accounts, credit cards, or loans, as products that were to be sold through a strategy called "cross-selling". This involved bankers trying to push these 'products' onto current and new clients to reach imposed sales goals. This culture of sales strategies was continued by Kovacevich's successor, John Stumpf.
These sales goals eventually began to take a toll on Wells Fargo employees. "We had a lot of longtime customers and a good staff, but the sales pressure kept mounting, mounting, mounting," former branch manager Dennis Hambek told Vanity Fair magazine. "Every morning, we had a conference call with all the managers. You were supposed to tell them how you were going to make your sales goal for the day, and if you didn't, you'd have to call in the afternoon to explain why you didn't make it and how you were going to fix it. It was really tense."
This pressure led employees to start "gaming" clients. As defined in the Wells Fargo Code of Ethics, "gaming" is "the manipulation and/or misrepresentation of sales or referrals . . . in an attempt to receive compensation or to meet sales goals." In 2005, a client came to Hambek to complain that they discovered they had been issued a checking and savings account they had neither asked for and or wanted. After investigating, Hambek found that the accounts had been opened with a bogus drivers license number and issued on January 1, 2000, a date on which licensing departments was closed for holiday.
When Hambek called the Wells Fargo EthicsLine to bring this case up with his superiors, he found that no one seemed to care. Hambek retired later that summer after 35 years at the company to avoid being fired for not meeting productivity goals.
These "gaming" practices were used just as aggressively on the Navajo Nation. Wells Fargo employees went so far as to "stalk local events" such as basketball games and community flea markets in an effort to sign people up for unnecessary accounts. In these instances, Navajo women selling native crafts were especially targeted. Additionally, underange Navajo citizens were signed up for accounts without parental consent by giving them falsified birthdates.
"Our agreement with the Navajo Nation demonstrates our commitment to make things right regarding past sales practices issues as we continue the important transformation of our company," Wells Fargo said in a statement. "With this matter resolved, we look to continue building upon our long-standing relationships with the Navajo Nation and its members, and continue to help our customers and communities throughout Indian Country."
The Navajo Nation aren't the only ones who were targeted because of their lack of English language skills. Major cities including Sacramento, Baltimore, Miami, and Philadelphia have accused the bank of targeting minorities for predatory loans schemes.
"Wells Fargo deliberately created an incentive program that induced minority borrowers to take higher cost loans under terms that they did not understand," a federal lawsuit citing former employees said.