Volkswagen Dieselgate Scandal Should Be Used To Fund Clean Vehicle Program
Image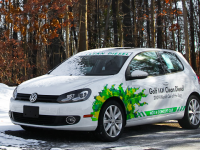 Activists say fines paid by Volkswagen to settle the "Dieselgate" scandal should be paid into a fund to help vulnerable populations like school children and low income communities, as punishment for installing software in some 11 million vehicles to enable the cars to cheat on emissions tests.
The company is currently under pressure to produce a solution to bring the offending vehicles into compliance with strict new U.S. rules governing nitrogen oxide emissions, and also pay a hefty fine to state and federal authorities. Bloomberg reports that the company has been in discussions with U.S. authorities in recent weeks to set up some kind of remediation fund.
Such a strategy has been promoted by the Center for Auto Safety which sued the company last Ocober. "Government enforcement actions result in headlines, penalties and settlements that do nothing to change underlying corporate behavior or remediate the underlying damage caused by illegal behavior," Clarence Ditlow, the executive director of the Center said in a press statement at the time.
In the lawsuit, the organization demanded that Volkswagen should pay a portion of its annual net profits into an independent fund administered by third parties to non-profit organization to offset the environmental damage.
Others agree that such a fund is necessary. "It is more important than ever that (Volkswagen) remedy the health of the public affected by these dirty vehicles," wrote Dave Cooke, a senior vehicles analyst in the Union of Concerned Scientists Clean Vehicles Program, in a blog post titled "What We Need from Volkswagen, EPA, and California to Make Things Right."
"One strategy could be to set up a fund similar to the Diesel Emissions Reductions Act, which could accelerate fleet turnover and reduce emissions by retrofits or replacements. A portion of this fund could even be set aside for zero emission trucks," Cooke suggested. "Another area of critical importance could be to reduce the emissions from school buses, since children represent a particularly vulnerable population."
Volkwagen appears to have begun the emissions cheating program around 2009 to comply with new U.S. laws. Models like the Beetle, Golf, Jetta, Passat and Touareg as well as certain Audi models were outfitted with Bosch software that could detect when the cars were being tested and switch the engines into a different mode to make them look they complied with the law. In reality, the cars emitted as much as 40 times greater than the federal standards.
The problem that the company faced was that technology that allowed vehicles to reduce nitrogen oxide emissions simultaneously increased the production of soot. In order to keep the soot levels down, the vehicles needed to use additonal diesel that in turn made the cars less fuel efficient.
Senior Volkswagen officials say that they were not aware of the cheating but that seems unlikely. "It's completely unrealistic that a lonely engineer" could have planned this operation, Daniel Lange, founder of Faster IT, a technology consulting firm, and a former BMW engineer, told the New York Times.
If nothing else, Volkswagen executives were warned two years ago, after researchers at West Virginia University conducted a real life study on the vehicles for the International Council on Clean Transportation (ICCT) that showed that the vehicles were polluting at a much higher level than official tests appeared to indicate. (A 2011 study by the European Commission's Joint Research Centre had warned that such software could be used to cheat on tests)
When the ICCT study was published Oliver Schmidt, a Volkswagen's engineering and environmental office employee, warned his bosses about the implications in an email dated May 15, 2014. "The contents of this study cannot be ignored!" he wrote. Yet Volkswagen management took no action until the U.S. Environmental Protection Agency (EPA) served the company with a notice of violation on September 18, 2015.
Under U.S. law, Volkswagen could now be fined upto $37,500 per vehicle by the EPA and another $5,500 per vehicle by the California Air Resources Board. Total fines for the company are estimated to be as high as $46 billion.
Volkswagen says it is now conducting an internal investigation into how the cheating took place. It has also hired Jones Day, a U.S. law firm, to conduct a parallel independent inquiry.
AMP Section Name:
Transportation