Twitter Covertly Assisted Pentagon in Middle East War Propaganda Efforts, New Data Shows
Image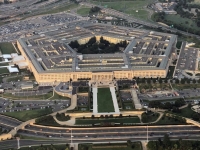 Twitter, the social media company, quietly assisted Pentagon officials involved in putting a positive spin on the U.S. wars in the Middle East, according to new research into the Twitter Files, a tranche of internal company data provided to selected members of the media by CEO Elon Musk.
The Intercept, an online investigative news site, published an article by Lee Fang together with multiple internal company messages from the Twitter Files. "The conduct with the U.S. military's covert network stands in stark contrast with how Twitter has boasted about rapidly identifying and taking down covert accounts tied to state-backed influence operations, including Thailand, Russia, Venezuela, and others since 2016," wrote Fang on Twitter.
The electronic messages that Fang reviewed – which were sent during the presidencies of both Donald Trump and Joe Biden – shows that a person named Nathaniel Kahler, who used a military email account, was corresponding directly with Twitter staff to ask them to remove any blocks on certain Twitter accounts that were being used to conduct propaganda efforts in Iraq, Kuwait, Syria and Yemen. (The list of accounts can be seen here.)
"I've attached a list; the first 6 on the list are our priority accounts," Kahler wrote on July 26, 2017. "Ideally, we could have them verified (blue check mark) and 'whitelisted" (if there is such a thing?) The rest are accounts we use to amplify certain messages ~ ideally, they could be "whitelisted" as well." The Intercept reports that Twitter complied with the request at the time and has not since discontinued the 'whitelisting.'
The Intercept noted that Nick Pickles, a spokesperson for Twitter, later testified to a U.S. Congressional hearing on 'Emerging Trends in Online Foreign Influence Operations: Social Media, COVID-19, and Election Security' in June 2020 to claim that the company actively removes state-backed propaganda accounts. "We invest heavily in our detection, disruption, and transparency efforts related to state-backed information operations," he said. "Our goal is to remove bad-faith actors and to advance public understanding of these critical topics."
This is despite the fact that many of the newly revealed messages appear to show that Kahler was asking for special treatment for a state-backed effort that Twitter's abuse detection system had flagged as problematic – including ones relating to drone strikes and local militias. "Much of the Pentagon's covert social media ops focused on promoting the war in Yemen," Fang noted on Twitter. "Which American actually voted for this war? Who does it benefit other than Saudi Arabia & it's local Al Qaeda allies? The war has killed thousands of children & civilians, displaced millions."
The efforts appeared to continue during the Biden presidency, as revealed by another email from Rebecca Hahn, a former Twitter communications official dated September 22, 2022, who wrote about company efforts to limit coverage of their role in Pentagon psychological operations on social media.
Peace activists say that an investigation should be opened into the collaboration between the Pentagon and social media companies. "At the very least, our citizens are fully informed when their tax money is being spent on putting a positive spin on our endless wars," Erik Sperling, the executive director of Just Foreign Policy told Fang.
CorpWatch dug a little deeper into Nathaniel Kahler, the Pentagon official who initiated the 2017 correspondence. The name corresponds to a LinkedIn profile of a person who was hired in June 2017 to work for a company named Colsa in Florida. At the time Colsa was working on a Pentagon contract named WebOps, according to the Associated Press news agency, to hire Arabic speakers to search social media platforms and track down people who might be considering joining extremist groups like the Islamic State of Iraq and the Levant Islamic State of Iraq and Syria.
Kahler's online resume notes that he speaks Arabic and studied in Egypt, Morocco and Syria. It also noted that he graduated with a Masters degree from the College of International Security Affairs at the Pentagon's National Defense University just before he went to work for Colsa.
Unfortunately, according to whistleblowers who spoke to the Associated Press, since many of the individuals that the company hired for WebOps were not native speakers nor familiar with the region, the Colsa contractors sometimes made a fool of themselves. "In one particular instance, WebOps employees repeatedly referred to the Palestinian Authority as the 'Palestinian salad."
A former Colsa employee told the Associated Press that staff often "don't know the difference between Hezbollah and Hamas" and that managers often hired people on basis of a casual interview, in which they asked questions like: "How do you say 'good morning?' Oh, you can do that? You are an expert. You are hired.'"
Today Kahler no longer works at the company – his online resume says he now works on a project to enable "dialogue and engagement with populations around the world" at Two Six Technologies, a subsidiary of the Carlyle Group, which incidentally also does 'information operations' contract work for the Pentagon, according to its website.
It should be noted that Kalher's resume fits with a pattern of military contractors hired to provide 'information operations' backup to U.S. wars in the region, as CorpWatch documented in 2004, when we reported on Science Applications International Corporation (SAIC) contract to run the Iraqi Media Network's (IMN) radio and television station in Baghdad.
By and large they failed at the time, wrote Don North, a former IMN staffer who also worked for ABC and NBC News. "IMN has become an irrelevant mouthpiece for CPA (the U.S. run Coalition Provisional Authority) propaganda, managed news and mediocre programs," he wrote. "I have trained journalists after the fall of tyrannies in Bosnia, Romania and Afghanistan. I don't blame the Iraqi journalists for the failure of IMN. Through a combination of incompetence and indifference, CPA has destroyed the fragile credibility of IMN."
These efforts have continued over past years. For example General Dynamics was awarded a $10 million contract in 2008 to provide "full-service cultural knowledge, political, editorial, media and information technology capabilities" with the help of "a network of native/indigenous content contributors with backgrounds in politics, academics, security, culture, entertainment, and other aspects of the (U.S.-declared global war on terror), which appeal to identified foreign target audiences."