Serengeti Under Threat from UAE Big Game Hunting Company
Image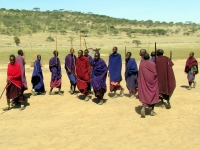 Serengeti national park is under threat from Ortello Business Corporation (OBC) in a deal that could displace 48,000 indigenous Maasai and open it up for hunting of lions and leopards. An urgent action by Avaaz, an international campaigning group, has gathered close to a million signatures to protest the scheme.

The Serengeti region covers 12,000 square miles (30,000 square kilometers) from north Tanzania to south western Kenya. Over 2,000 lions roam the area among dozens of other species from the crowned eagles to elephants and rare black rhinos. It is most famous for an annual migration during which over a million wildebeest and about 200,000 zebras travel south from the northern hills to the southern plains in October and November and then move west and north between April and June.

The region is also called Maasailand, after the semi-nomadic indigenous community that lived there for centuries until the British colonialists started to grab their lands to build ranches. Today the colorfully dressed spear carrying tribe have become a global tourist attraction.

"(O)ur vision of virgin nature has encouraged the takeover of the land by a new breed of super-rich conservationists and tourism operators," writes New Scientist journalist Fred Pearce in his new book, The Land Grabbers. "The Serengeti has become the world's biggest zoo, in which the Maasai warriors are reduced to decorative walk-on parts."

One of these operators is OBC, which is based in the United Arab Emirates, and markets big game safaris. The company prefers not to speak to the media but a Conde Nast Traveler reporter sketched a profile of the company and its recent conflicts with the local Maasai.

In the early 1990s the Tanzanian government "granted OBC the right to hunt in more than 50,000 acres of savanna and hills in Masailand, reportedly in exchange for millions of dollars in financial aid to the Tanzanian armed forces," writes Joshua Hammer.

In July 2009, the Tanzanian army allegedly kicked dozens of Maasai out of the area for "trespassing" on OBC land. " They ordered us out of our bomas (thorn bush compounds), then they poured gasoline on them and set them on fire," a cattle herder told Hammer. "After the burning, we rebuilt, and they came and did it again."

A similar report was published by a Tanzanian fact-finding mission conducted in August 2009 by Feminist Activist Coalition (FEMACT) which reported that "there were ruthless eviction operations conducted in the Loliondo villages. Contrary to the District Commissioner's claims, the investigation team came across testimonies and evidence of despicable despicable acts. The team came across women who had undergone miscarriages, rape, loss of children and other properties including food and shelter. Men who were chained beaten and humiliated in front of their families, those who had lost thousands of livestock among other properties and those who were imprisoned for no apparent reasons."

In September 2009, James Anaya, the United Nations special rapporteur on the human rights and fundamental freedoms of indigenous peoples wrote to the Tanzanian government to ask for an explanation of the incidents.

The UN letter notes that the original contract between OBC and the government, required to company to make payments of three million Tanzanian shillings to each villager and provide employment, roads, schools and water to the community. But OBC "has not complied with the contractual terms related to compensation, provision of services, and employment," writes Anaya.

A week ago Avaaz, a letter writing campaign group, heard from the Maasai that OBC had new plans to expand and asked for their help.

"The last time this same corporation pushed the Maasai off their land to make way for rich hunters, people were beaten by the police, their homes were burnt to a cinder and their livestock died of starvation," wrote Avaaz's Sam Baraat in an email sent out last week. "But when a press controversy followed, Tanzanian President Kikwete reversed course and returned the Maasai to their land. This time, there hasn't been a big press controversy yet, but we can change that and force Kikwete to stop the deal if we join our voices now."

"For us, our land is everything, but these Arab princes have no respect for the animals or our rights," Mzee Orosikos, a Maasai elder, told the Observer newspaper. "Many of us would rather die than be forced to move again."

The government denies the allegations. "(N)o eviction exercise has been planned for the Serengeti district, which is one of the districts in Mara region" George Matiko, spokesman for the resources and tourism ministry, told the newspaper. "In the Serengeti there is no hunting bloc allocated to Middle Eastern kings and princes to hunt lions and leopards."

The campaigners says that the government reply has been carefully worded to avoid the bigger question. "(T)he Tanzanian government is playing cynical word games - the Maasai lands in question are commonly understood to be within the Serengeti ecosystem'" says Emma Ruby-Sachs, campaign director at Avaaz. "If the government does not believe there is any threat to the Maasai lands, it should be easy for it to commit to a policy of not forcibly evicting any of its people to make way for foreign interests."

AMP Section Name:
Tourism & Real Estate