Scientists Across the World Protest the Companies Causing the Climate Emergency
Image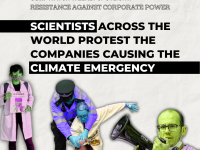 Over 1,000 scientists from 25 different countries staged protests during the week of April 4-9 following the release of the new report by the Intergovernmental Panel on Climate Change (IPPC).
The protesters, who call themselves the Scientist Rebellion, sought to "highlight the urgency and injustice of the climate and ecological crisis."
"Shell has known about the harm their products and activities cause since before I was born, yet throughout my lifetime they have kept expanding their fossil fuel operations, wrecking lives, communities, ecosystems, the world's climate and our prospects for the future in the process." - Abi Perrin, microbiologist who took part in the London protest
Broader context
The latest IPCC report warned that greenhouse gas emissions need to be cut drastically by 2025 to avoid catastrophic climate effects.
It is impossible to study the climate emergency without looking at the impact 
of multinational corporations. A 2017 report by CDP and Climate Accountability Institute found that just 100 companies are responsible for 71% of global emissions.
Scientist Rebellion
The Scientist Rebellion was founded in 2020 by Ph.D. students in Scotland, having been inspired by the non-violent civil disobedience group Extinction Rebellion. 
Extinction Rebellion is a grassroots movement fighting against social and ecological collapse and mass extinction. It sprang up in the UK in 2018 and has since spread across the world. The group's protests have targeted some of the worst polluters like Adani, Amazon, Lloyd's of London and Shell.
Week of protests
Scientists in London, UK, threw fake blood at the headquarters of Shell and in Lilongwe, Malawi, they held a teach-in at Lilongwe University of Agriculture and Natural Resources. In Los Angeles, USA, they chained themselves to the JP Morgan Chase building to protest banks who fund fossil fuel companies.
"Listen to the scientists. Hear the voices of activists. Climate justice now." - Amwanika Sharon, Scientist Rebellion member protesting oil exploration and refinery construction in Uganda
JP Morgan Chase
One of the many actions took place in LA, where climate scientists chained themselves to the doors of JP Morgan Chase until they were arrested by the LAPD.
When Peter Kalmus, a climate scientist at NASA, was asked why they chose JP Morgan Chase, he said, "We feel that a leverage point for making this cultural shift is to bring attention to how these banks are profiting off of the destruction of the earth … [and create] public outrage that they're literally doing that."
Media Attention
One would think that a global protest by scientists who put their bodies on the line would be a major news story. However, key US news outlets (CNN, The New York Times, The Washington Post, NPR) did not cover the story at all.
"The media insists on reporting Earth breakdown as just another 'story' and it is leading us to ruin. This is climate denial. The #ScientistRebellion was generally ignored by senior editors in the corporate media for reasons I still do not fully understand." - Peter Kalmus, climate scientist at NASA
This is #4 in our series of Instagram infographics on resistance against corporate power.
Click here to see the full post on Instagram.