Residents of Westside Mobile Home Park in Colorado Raised Enough Money to Purchase Their Park and Beat a Corporate Landlord
Image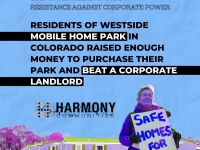 In December 2021, residents of the Westside mobile home park in Durango, Colorado, received a notice that their park was up for sale. Although the park residents owned their own homes, they did not own the land on which their homes stood. 
Knowing that when mobile home parks are sold, residents often face either eviction or significant rent increases, the residents decided to raise the money to purchase the park themselves.
"It is a David and Goliath story in so many ways." — Stefka Fanchi, CEO of Elevation Community Land Trust (ECLT)
First offer rejected
Westside residents, with the help of alongside ECLT, a Colorado organization that helps families find affordable housing, initially made a $5.46 million offer to purchase the mobile home park.
IQ Mobile Home Parks, the park owner, rejected the offer in favor of an all-cash offer from Harmony Communities (HC), a private company in California that buys and operates mobile home parks.
Victory
Having been given a week to come up with an all-cash offer, the residents launched a GoFundMe campaign, organized fundraisers and raised $50,000. ECLT and other organizations helped finance the rest. In the end, IQ accepted the residents' offer.
The reality
In recent years many U.S. mobile home park owners have started to retire and sell their parks - there was a 70% increase in park purchases in 2021 in the southeast region alone. 
Real estate corporations like Harmony have seized the opportunity to make a quick profit – they now own 33 mobile home parks across the country.
What happens
Residents of mobile homes parks complain that when outside real estate companies take over, they increase rent, impose stricter rules and don't always maintain the parks properly. 
For example, Harmony bought up the Golden Hills mobile home park in Colorado, increased the rent by 50% and then offered to sell it to the residents at a higher price.
"That really tells the story of what it's like to be a poor person trying to interact with the systems. You get steamrolled through the entire process." — Mariah Thompson, California Rural Legal Assistance
Company response
"Our communities are defined by the services, affordability and lifestyle opportunities they offer to our residents." – Harmony Communities Website
This is #10 in our series of Instagram infographics on resistance against corporate power.
Click here to see the full post on Instagram.