Rent the Runway, Fashion Rental Business, Accused of Exploiting Workers
Image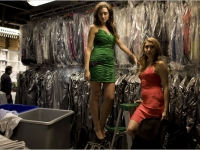 Rent the Runway, a high-end U.S. fashion rental business, is forcing their majority immigrant workforce to compromise their health during the coronavirus pandemic, say employees. The company, which ships most of its dresses from New Jersey, has stayed open by exploiting a loophole in the state's emergency lockdown laws.
Subscribers to Rent the Runway pay the equivalent of a little over $3 a day to rent as many as four "high fashion" outfits at a time worth up to $3,000 per item. Express shipping and dry cleaning of all items are free.
"They found a loophole they could take advantage of," Randy, a 58-year-old worker for Rent the Runway told the Huffpost website. "So that women could order dresses and wear them for mirror selfies." Randy was one of 22 current and former Rent the Runway workers who agreed to be interviewed by Huffpost about the implications of the business remaining open during the pandemic.
Founded in 2009 by Jennifer Hyman and Jennifer Fleiss, two Harvard Business School classmates, Rent the Runway made Fast Company's "Most Innovative Companies" list in 2018. By March 2019, the company was valued at $1 billion, joining the ranks of so-called 'unicorn' businesses.
At that very same time, growing numbers of workers had started to leave the company because of overwork and because of the stress from angry customers who would complain about delayed or dirty rentals that even led to 'horror stories of ruined weddings,' according to an article published on the Vox website last September.
"Retail workers sacrificed their mental health for the direct benefit of the customer as if they were founders," wrote Ariel Zorrilla, a former senior staff member on his Medium blog.
In 2020, when many retail stores around the U.S. were forced to close under the strict lockdown rules passed to protect people from the coronavirus pandemic, Rent the Runway took advantage of a New Jersey state legal loophole that allowed companies to remain open for non-essential purposes, if they operate a "fulfillment center" (such as Amazon distribution warehouses) and as long as employees follow proper social distancing procedures.
"It's like they just don't care...It's heartless. It's really heartless." Kevin, a current Rent the Runway employee, told Huffpost. He said that he has stayed in his job in order to support his family.
Rent the Runway claims that remaining open is beneficial for employees' financial welfare and customers' mental health. "Like thousands of e-commerce businesses across categories we remain operational during this unprecedented time to serve our customers and provide employment for our teams — safely," Rent the Runway executives tweeted recently via the company Twitter account.
"I fully recognize that our actions have had unintended consequences," Jennifer Hyman, Rent the Runway CEO, wrote in a letter to her staff. "I am heartbroken that some of our warehouse associates are struggling right now as a result of the decisions we made."
But Madalyn, a former Rent the Runway employee, told Huffpost that the work has always been hard and often disgusting, because customers routinely take advantage of the free cleaning option to return "clothes stained with menstrual blood, sweat, vomit and just about every other bodily secretion."
After the coronavirus pandemic began, workers have become scared that returned clothing might be contaminated with COVID-19 viruses.
Some customers say that they believe that Rent the Runway's business model is questionable under lockdown.
"I go back and forth with thinking about the amazing team that is in the warehouse preparing my items for me to just wear around the house, and if it is really worth it for them to go in. Is it helping to keep them working and have income coming?," Melissa, a 33 year old New Yorker who has paid for the most expensive "unlimited" monthly subscription since 2016, told Refinery29, a lifestyle website for women, headquartered in New York. "Or would they be better off staying home?...Ethically, I go back and forth on this. I pray that those in the warehouse are being treated like royalty in this time as they are putting their lives at risk while keeping the company going."
The company has pushed back, saying that management has increased protections for workers. "We have enhanced cleaning protocols, including multiple professional cleanings per day, weekly deep cleaning and widely available hand sanitizer stations to ensure a clean working environment," a tweet issued by Rent the Runway stated.
Other members of the public are outraged that Rent the Runway has stayed open at all. William Hovard, a Twitter user, wrote: "Is it really worth it for your underpaid employees to risk their life for $12 an hour? Who wants to rent a previously worn garment … and handled by multiple people? Renting luxury clothing in a pandemic is not essential."