JNB Global to Provide Back Pay to Guatemalan Garment Workers Who Were Illegally Fired
Image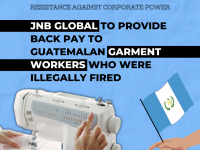 Workers at JNB Global's factory in Guatemala made clothes for U.S. mega retailer Target. In 2020, JNB demanded that all workers sign new contracts that would have wiped out benefits from the years of service they had put in. Seven workers refused to sign and were fired. Target Workers Unite and Workers' Rights Consortium helped restore the workers' rights and get back pay for those fired.
"We were humiliated by the factory when they fired us without warning and without paying our legal severance. But today we can smile and say thank you very, very much and may God bless you so that you can continue to provide this support for other workers." – Pedro, one of the fired workers
JNB Global
JNB Global, also known as Sams and Rudia, employs 400 workers at a garment factory in Guatemala City, Guatemala. It supplies clothing to Target, a major retailer in the U.S. as well as other clients.
Workers Fired 
In 2020, company management demanded workers sign new employment contracts that reset the length of their employment to zero impacting vacation accrual and severance benefits. (Guatemalan law requires employers to pay laid off workers a month of pay for each year worked.) All but seven workers signed. The workers who refused to sign were promptly fired.
"When I was fired, I owed rent, school fees for my children, payment of my electricity bill, and many other family expenses. I didn't know how I would solve my problems, because, in Guatemala, it is very difficult to find work." – Santos, one of the fired workers
Workers' Rights Consortium
The seven fired workers filed a complaint with Workers' Rights Consortium, a Washington DC organization, which conducted an investigation and recommended that they be paid back pay and full severance amounting to US$62,000 in total. (None of the seven wanted their jobs back.)
Target Workers Unite
Members of Target Workers Unite (TWU), a group of workers in Virginia, heard about the fired workers and rallied to put pressure on their employer. They were joined by employees of CNTRV (National Confederation of Clothing Workers) in Brazil.
Workers Win
After WRC and the unions took up the matter with Target, JNB agreed to pay out severance and back pay to the fired workers. It also agreed to restore seniority rights for all the other 400 garment workers at the factory.
"Our vision is to position ourselves in the market as a successful and socially responsible company with great national recognition thanks to our products, quality, prices and service, always respecting the rights and work of both our collaborators and our clients."
This is #42 in our series of Instagram infographics on resistance against corporate power.
Click here to see the full post on Instagram.