Próspera Demands Honduras Pay $11 Billion for Outlawing Privately Run City
Image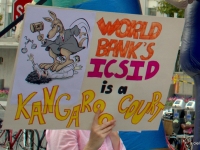 Próspera, a company based in the U.S. state of Delaware, has invoked an investor-state dispute settlement treaty to try to force the government of Honduras to pay US$11 billion for outlawing the company's plan to operate a privately run city on the island of Roatán.
Based on an idea floated by former World Bank chief economist Paul Romer to emulate the success of city states like Hong Kong and Singapore, Próspera was launched in 2013 with the backing of Porfirio Lobo, the president of Honduras. Lobo took over the reins after the previous left wing government of Manuel Zelaya was ousted in a 2009 military coup. During his four year tenure, a special law was passed that allowed Próspera to create its own laws and tax system on a 23 hectare plot on the Caribbean island. (Although the law was initially ruled unconstitutional by the Honduran Supreme Court in 2012, it was allowed to move forward after the constitution was changed and the new president appointed several new judges to the Supreme Court.)
"Próspera is transformative is because it's a meritocracy with no entrenched interests putting their thumb on the scale," CEO and founder Erick Brimen told Yahoo Finance. "We're all about finding the best solutions, talent, and entrepreneurs in the world, and giving them a platform that allows them to demonstrate the strength of their talents and ideas."
Some investors are bullish. "Próspera promises all sorts of opportunities for Honduran business people," Erick Pitsikalis, Apolo Group CEO, recently told Deutsche Welle news service. "It's a safe place where we can live, where progress is possible."
In 2020, seven years after the laws were changed, Brimen and his investors began to build Próspera. Three years later it remains an unfinished project. Although an estimated $100 million has been committed, workers have been hired, buildings have been erected, few inhabitants have moved in.
Another vexing problem is the neighbors: Hondurans who live near Próspera are unhappy – given that the city was also given the right to expand in the future.
"The city will grow like a tumor," Luisa Connor, president of the community association of Crawfish Rock, the closest village, told Deutsche Welle. "We will be the first to lose what we have."
"We, of course, have the rights to be free and previously consulted on any type of project that is being done in our community, and we have not been," Venessa Cárdenas, another community leader from Crawfish Rock, told Democracy Now!
Not least is the problem that Próspera may soon lose its unique status.
In 2022, Xiomara Castro, the wife of the ousted president Zelaya, was elected president herself. Soon after she took over, the Honduran parliament embarked on the process of repealing the laws that allowed Próspera to bypass national laws and taxes. Fernando Garcia, a local lawyer, was commissioned by the Honduran government to work out the legal details.
This has triggered alarm among the investors in Próspera who worry that they could lose their money.
So in September 2022 with the help of Francisco Jijón and Ank Santens, partners at New York law firm White & Case, Próspera challenged the government of Honduras under the Dominican Republic-Central America free trade agreement to enter into arbitration, a legal system that exists outside of nation states.
The claim was brought before the World Bank's International Centre for Settlement of Investment Disputes (ICSID) in Washington DC. Próspera asked for US$10.8 billion in compensation, an astronomical sum given that it is equal to almost two-thirds of the 2022 Honduran national budget.
In retaliation, Honduras has now threatened to withdraw from the ICSID system entirely. And the claim has also galvanized progressive U.S. politicians. "Large corporations have weaponized, and continue to weaponize, this faulty and undemocratic dispute settlement regime to benefit their own interests at the expense of workers, consumers, and small businesses globally," a group of 32 members of the U.S. Congress wrote in an open letter to President Joe Biden.
Indeed, a 2020 review of 74 case studies of investor protection agreements by Josef Brada, Zdenek Drabek and Ichiro Iwasaki shows that the "effect of international investment agreements is so small as to be considered zero."