Pandemic Helps Expose Boohoo for Underpaying UK Immigrant Garment Workers
Image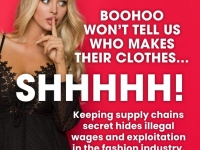 Contractors to Boohoo, an 'ultra fast fashion company,' have been paying their largely immigrant workforce at sweatshops in Leicester, a city in central England, less than half the UK minimum wage of £8.17 per hour for employees over the age of 25.
Founded in Manchester in 2006, by entrepreneurs Mahmud Kamani and Carol Kane, the brand established itself by using so-called social media 'influencers' to target a younger female consumer base. They aren't alone in this marketing niche – their competitors include Nasty Gal, Pretty Little Things and Shein – but they are easily the fastest growing company amongst their competitors.
Ultra fast fashion companies embody the 'see now, buy now' motto. New technology allows these companies to capitalize on new trends almost instantaneously and bypass bricks-and-mortar stores by selling exclusively online. Social media platforms like Instagram have helped by allowing paid influencers (anyone who has amassed a large following) become publicists for these fashion brands and promote their new products.
Traditional fast fashion companies like Zara take five weeks to deliver shipments for physical sale. Boohoo boasts that it can get a product from concept to sale in two weeks – and its competitor Missguided claims that they can do it in just one week.
Ultra fast fashion companies manage to stay ahead of their competitors by having their factories as close as possible to their headquarters to quickly test products and get feedback before putting products on the market.
Globally, the apparel industry has historically exploited garment workers who find it hard to easily integrate into the local community such as immigrants and refugees. Many are willing to work under illegal conditions for less than minimum wages and under unfair work conditions if they have no work documents and if they face financial hardship.
For example in the mid 1900s many garment factories in the Los Angeles area took advantage of non-English speaking Chinese and Hispanic workers by offering them illegally low wages and unsafe work conditions. Similarly Syrian workers in Turkey; Burmese workers in Malaysia; and Guatemalan workers in the U.S. are often exploited by unscrupulous contractors to this day.
Enter Leicester, a city located less than than 100 miles from Manchester, which has one of the largest percentages of non-white citizens in Britain. This population arrived soon after 1948, when the British government passed the Nationality Act that allowed any Commonwealth subject to relocate to Britain to fill a labor shortage. As a result, thousands of Indian and Pakistani workers immigrated to find work in the garment factories in cities like Bradord, Leicester, and Manchester, a trend that has continued to this day, some 70 years later.
A decade after Boohoo was established, reporters started to investigate their labor practices. In January 2017, Channel Four television sent an undercover reporter into the factories to film working conditions. Another report was published by the Daily Mail newspaper in November 2018.
This year, LabourBehindtheLabel, a UK based not-for-profit organization campaigning for workers' rights within the clothing industry, reported that many Boohoo factories in Leicester were paying their workers a mere £3.50 or $4.40 per hour.
In an anonymous interview with the DailyMail, the owner of a Leicester factory that manufactures Boohoo apparel acknowledged this illegal practice last month. He said "We pay the minimum wage but not to everybody. Unless you're a big company it's not realistic in this industry where the margins keep getting squeezed."
"Anyone saying they are paying all their employees the minimum wage in the garment industry is a fraud,' the owner declared. "It's a lie because it's not possible."
The owner of the Leicester factory confirmed that the majority of the workers in Leicester immigrants from countries whose primary language is not English. "People who come from India or Bulgaria don't have money, they don't speak English but they need money to put food in their bellies," he said.
Two Boohoo suppliers in Leicester were identified and visited in recent weeks by investigative reporters: Faiza Fashion and Morefray Limited. (The latter factory displayed a sign for a defunct business named Jaswal Fashions.)
These media and NGO exposes have caused a backlash against Boohoo. Consumers who are increasingly concerned about workers' rights and the ethical sourcing of their purchases are demanding change. One Twitter user, who uses the handle @Uwnayna, tweeted "Fast fashion brands like Boohoo have a lot to answer for. Their marketing campaigns position them as being liberal and progressive, but underneath the surface, the amount of exploitation that goes on is huge." @sophielevin11 tweeted: "The broader hope is that pressure on these companies will force them to change their unethical and potentially illegal working practices."
Yet despite this backlash and the economic recession caused by the coronavirus pandemic, Boohoo has continued to thrive through social media campaigns, advertising comfort at home with slogans like "Honey, you NEED these PJ's" and "Summer must haves!"
However, concerns about coronavirus has also helped shine a light on working conditions inside these sweatshops. Major pandemic outbreaks in Leicester city caused many to speculate that the source of illnesses were garment factory workers who were not given the necessary personal protective equipment nor allowed to practice social distancing to protect themselves from the virus.
This speculation has resulted in Leicester city officials imposing some of the strictest lockdown measures in the country. Government inspectors swept in to inspect 51 garment factories in Leicester, forcing some to make changes.
Boohoo was forced to hired Alison Levitt, the former head of business crime at Mishcon de Reya law firm, to lead an investigation into the garment factories. She has promised to report back on her findings over the next few months.
"The Group will not tolerate any incidence of non-compliance with its Code of Conduct or any mistreatment of workers, and will not hesitate to terminate relationships with any supplier who does not comply," Boohoo CEO John Lyttle said in a press release.