Panama Papers Leak Reveals Safari Companies In Africa Use Tax Havens
Image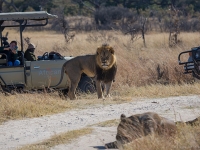 A number of safari companies in Africa used Mossack Fonseca, a Panamanian law firm, to evade taxes on income from foreign clients, according to data from the 'Panama Papers' a leaked cache of 11.5 million documents revealed by the International Consortium of Investigative Journalists (ICIJ).

Safari tours to see elephants, rhinos, lions and zebras in Africa's wilderness are very popular among wealthy tourists who often pay tens of thousands of dollars to live in expensive private lodges and be guided by professionals.

Three families named in the Panama Papers - the Carr-Hartleys of Kenya, the Pasanisis of Tanzania and Stevens of Zimbabwe - share more in common than  the fact they are white residents of Africa providing such luxury tours to foreigners: All of them route their income through offshore entities.

'Out of Africa, Into Tax Havens' - a report written by Will Fitzgibbon of ICIJ  recounts the story of John Stevens of Zimbabwe. "His financial universe is a classic creation of offshore globetrotting," writes Fitzgibbon. "Stevens' financial affairs reveal how the poetry of Africa's savannahs mixes with the day-to-day paper-pushing of offshore management."

The Source, a Zimbabwean website, notes that the Panama Papers show that Stevens-owned Guided Safaris Africa Inc, a company that conducts tours in Zimbabwe, has ties to Hanoverian Ltd, which itself is connected to 35 entities, all registered in the British Virgin Islands, referred to as BVI in the documents.

"In general, there is no legitimate reason why a tourism operator would need to route their transaction via a highly secretive jurisdiction such as the BVI," Savior Mwambwa, a tax reform campaigner at ActionAid International told ICIJ. "There is also nothing special about the tourism sector in Africa which would warrant offshore arrangements for payments from abroad. I can't see any legitimate reason to channel bookings through the BVI and the Isle of Man apart from tax minimization."

Gerard Pasanisi, a well known French safari guide in Tanzania, was revealed to have shares in four companies set up by Mossack Fonseca, registered in Switzerland and the United Arab Emirates. This Day, a Tanzanian newspaper, notes that Pasanisi is the chair of the Tanzania Hunting Operators Association (TAHOA) and "widely considered to be the kingpin of the local industry, with considerable influence both in the country and abroad."

"Our survey has already established that ever since way back in the late 1970s, the industry as a whole has been monopolised by an elite group of foreign companies, consigning the bulk of the local citizenry to the role of mere spectators," writes a reporter for This Day.

Likewise, the Carr-Hartleys, a white family that has lived in Kenya for four generations, describe themselves thus on their website: "Robert and William Carr-Hartley's hunger for adventure and their passion for wildlife and conservation is inherited from their Grandfather Tom Carr-Hartley stemming from a long family history in East Africa."

However, ICIJ says that the family passion for Africa stops at paying taxes. Instead the Carr-Hartleys routes their safari income through various companies in Panama, such as the Raw Foundation and Munga Munga Inc. as well as via Safariland Inc. in the British Virgin Islands.

In a response to ICIJ, Mossack Fonseca, says there is nothing wrong with the services the firm provides. "We have not once in nearly 40 years of operation been charged with criminal wrongdoing. We're proud of the work we do, notwithstanding recent and willful attempts by some to mischaracterize it," wrote Carlos Sousa, a spokesperson for the firm. "Our firm, like many firms, provides worldwide registered agent services for our professional clients (e.g., lawyers, banks, and trusts) who are intermediaries. As a registered agent we merely help incorporate companies, and before we agree to work with a client in any way, we conduct a thorough due diligence process. In providing those services, we follow both the letter and spirit of the law."
AMP Section Name:
Tourism & Real Estate