Greece Raids UBS Executive's Home In Effort To Uncover Swiss Tax Evasion
Image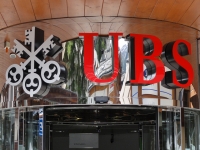 Greek tax investigators have raided the house of Christos Sclavounis, the former head of investment banking for UBS. The crackdown is part of an agreement that the country reached with international lenders in order to reduce tax evasion by Greek elites suspected of hiding their income in Switzerland.

This is the second UBS related raid to date in Greece. Tax authorities seized documents from a UBS office Athens in December.

The raids are believed to be based on a list of 10,588 depositors whose names were handed over to Greece last November.  It is known as the Borjans list, after Norbert Walter-Borjans, the finance minister of the German state of North Rhine-Westphalia, who bought the list from Swiss authorities.

As part of a special deal signed with North Rhine-Westphalia, some 50 Greek tax investigators traveled to Germany to be trained in feretting out tax evasion.

Guardian newspaper sources say that the Borjans list included a number of members of 'well-heeled upper echelons of Greek society - (who are) able to spend Christmas in villas in Gstaad in Switzerland and summer at sea in luxury pleasure boats. A few of the individuals on the list have subsequently come forward to pay their taxes but others have opted to be audited or to fight in court.

"Greece will devote its resources and enlist the assistance and expertise of cooperating countries to ferret out wrongdoing by financial institutions and their high profile clients who attempt to evade their tax responsibilities," Greek government spokeswoman Olga Gerovasili said in a press statement after the raid on Sclavounis's home.

UBS says that Athens has not informed them about the latest raid. "We have not been contacted by the Greek authorities concerning an alleged investigation of UBS," a bank spokeswoman told Reuters. "There is, as a result, nothing to comment on."

But the bank has been eager to suggest to the media that they have been unfairly targeted of late. "This is unacceptable and opens the door for a new offensive against Swiss banks," Sergio Ermotti, UBS CEO, told Sonntags Zeitung newspaper in Switzerland.

The fact that many wealthy Greeks spirit their income out of the country via Swiss banks to avoid paying taxes is no secret. "Everyone knew, if you were referring clients back to Switzerland, they were not going there to buy chocolate," Bradley Birkenfeld, a UBS whistleblower, told the Financial Times. "Greece is an economic shambles. Why? Because all of their money's in Geneva and Zurich."

In 2015, Yanis Varoufakis, then finance minister of Greece, estimated that there was some €80 billion hidden in Swiss bank accounts.

"Sometimes we know that someone has taken money away from Greece. But we do not know in what city or which bank it is located in Switzerland," Varoufakis told Schweizer Radio und Fernsehen, the Swiss state-owned broadcaster. "It's like being at an archeological dig. Before you dig you do not know what you will find."

Varoufakis accused the Swiss government of failing to help Greece. For their part, Swiss authorities have long insisted that they are not legally required to inform the Greeks about any Swiss bank clients unless the individual is being prosecuted for money laundering. Last March the Swiss government finally signed a tax agreement with Greece to provide a guaranteed automatic annual exchange of data beginning next January.

Borjans is not the only person to have stepped forward to help Greece get around the reluctant Swiss. In 2010, Christine Lagarde, who was then French finance minister, provided Greece with a list of 2,000 Greeks that have accounts with HSBC in Switzerland.


AMP Section Name:
Financial Services, Insurance and Banking