Global Oil Companies Allegedly Used Monaco Lobbyist To Pay Bribes For Deals
Image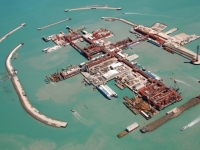 Unaoil, a lobbying firm based in Monaco, is being investigated by authorities in Australia, the U.K. and the U.S. for allegedly helping companies around the world pay bribes for oil concessions and contracts. Among the companies under scrutiny is Texas-based Kellogg Brown & Root, former subsidiary of Halliburton.
According to a cache of leaked emails obtained by journalists from the Age newspaper in Australia and the Huffington Post, Unaoil acted as a go-between for oil companies who needed high-level connections to government officials in charge of contracts together with plausible deniability. Owned by Ata Ahsani, an Iranian-born UK citizen, and his sons Cyrus and Saman, the company set up dozens of shell companies to help its clients make deals in secret.
"It is a high-risk, high-reward game that has provided the Ahsanis with a lifestyle to match - the finest clothes, best schools and jet-setting holidays," write the Age reporters. "Pictures show the family hobnobbing with the prince (of Monaco), with Arab sheikhs and the cream of Europe's business class."
The Ahsani's business practices came under scrutiny after the articles were published in late March.
"Authorities conducted searches of the homes of the leaders of the company Unaoil and at its headquarters in the principality," a statement issued by the government of Monaco said. "These searches and interviews were conducted in the presence of British officers, in connection with a case of vast corruption with international ramifications that involves many foreign companies active in the petroleum sector."
The leaked emails show that KBR paid Unaoil millions from 2004 to 2009 to help it win contracts to work on the Kashagan oil field in Kazakhstan. Getting such a deal meant dealing with the state-owned oil companies and Nursultan Nazarbayev, the Kazazk president. Enter Leonida Bortolazzo, an Italian consultant who was simultaneously being paid by Unaoil and the Kazakh government, and who previously worked for Eni, an Italian company that held part of the Kashgan oil concession. Bortolazzo was paid $165,000 to sign with Unaoil and given tens of thousands of dollars of expensive furniture.
"We need to convince Richard [Stuckey, of Halliburton/KBR] that we own the spaghetti house & have a lease on the shashlik takeaway," wrote Unaoil executive Peter Willimont to Cyrus Ahsani in February 2005. "This done we can get our deal signed." 'Spaghetti' apparently referred to Eni while 'shaslik' referred to Kazakhstan. Unaoil also spent lavishly to host Kazakh oil bureaucrats in Monaco.
Both Halliburton and KBR deny that they paid any any bribes to secure contracts in Kazakhstan. The articles published don't provide any clear evidence that KBR made any payments to Kazakh officials.
But the timing of the correspondence could also be of some significance. In 2009, KBR and its former parent, Halliburton, jointly paid a $402 million fine and pled guilty to bribery in Nigeria.
"If those emails were written after KBR was under investigation by the (U.S. Department of Justice) for prior violations, then the penalty will be far higher than it would be if this was a first-time violation," Andy Spalding, a white collar crime blogger who also teaches law at the University of Richmond in Virginia, told the Huffington Post. "It doesn't matter what they're going to argue, because a third-party law firm is going to come in and read all these emails and interview all these employees and they're going to detect really quickly that they're not talking about food."
Other companies named in the leaked Unaoil files include Leighton Offshore of Australia; Sinopec from China; Technip of France; Yokogawa of Japan; Hanwha, Hyundai, ISU and Samsung from South Korea; Tecnicas Reunidas of Spain; Petronas and Ranhill of Malaysia; Keppel from Singapore; and Rolls-Royce from the UK.