Federal Regulators Failed to Police Goldman Sachs, Says Whistleblower
Image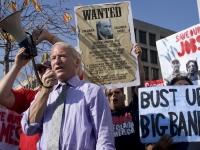 Carmen Segarra, a former senior examiner with the Federal Reserve Bank of New York, has revealed how government regulators failed to adequately police Goldman Sachs, the Wall Street investment bank. (The Federal Reserve is the central banking system of the U.S. chartered by Congress to supervise private banks)
Goldman Sachs has been ranked as the top bank in the world for mergers and acquisitions by Bloomberg. It makes a profit of roughly $8 billion a year on revenues of $34 billion but has been widely criticized for how it makes its money. Matt Taibbi of Rolling Stone once descibed Goldman Sachs thus: "The world's most powerful investment bank is a great vampire squid wrapped around the face of humanity, relentlessly jamming its blood funnel into anything that smells like money."
Segerra was hired by the Federal Reserve in 2011 in order to monitor major banks after the 2008 economic crisis. Seven months after she started work, she was fired. But before that, and unbeknownest to her employers, she recorded a number of internal conversations which she then turned over to ProPublica, an investigative website, and "This American Life" - a U.S. radio show.
"Once clients are wealthy enough certain consumer laws don't apply to them," one Goldman Sachs employee was recorded as saying at a meeting that Segerra attended. Segarra was then told by a colleague: "You didn't hear that."  http://www.bloombergview.com/articles/2014-09-26/the-secret-goldman-sac…
For example, in 2012, Kinder Morgan, a Texas natural gas pipeline company, agreed to buy El Paso Corporation, another Texas natural gas pipeline company. The bank hired to advise El Paso was Goldman Sachs which happened to also have a $4 billion stake in Kinder Morgan. The way the deal worked was that Kinder Morgan wanted the lowest possible price for El Paso in order to maximize its profit. Goldman Sachs profited twice - first from the fee paid by El Paso for working on the deal, and second from the ownership stake that it held in Kinder Morgan.
Segerra raised the alarm at the Federal Reserve, pointing out that Goldman Sachs did not have proper policies to make sure that it did not have a conflict of interest. The bank refused to follow up but courts later ruled that her worries were justified.
"Although Goldman's conflict was known, inadequate efforts to cabin its role were made," wrote Leo Strine, a Delaware judge who investigated the deal when El Paso shareholders sued to stop the merger.  "Goldman continued to intervene and advise El Paso on strategic alternatives, and with its friends in El Paso management, was able to achieve a remarkable feat: giving the new investment bank an incentive to favor the merger by making sure that this bank only got paid if El Paso adopted the strategic option of selling to Kinder Morgan."
Segerra also caught other senior officials making damning statements. "Credibility at the Fed is about subtleties and about perceptions, as opposed to reality," Mike Silva, a senior Federal Reserve officer in charge of monitoring Goldman Sachs, told Segerra.
Federal Reserve officials asked Segerra to stop being so critical of the banks she was supposed to investigate.  "They wanted me to falsify my findings," Segarra told ProPublica. "And when I wouldn't, they fired me."
"The simple answer is that it's become standard practice for Fed employees to go to work for Wall Street firms, so the last thing they want to do is to alienate those firms and come across as people who don't 'get it,'" Michael Lewis, author of a number of books on Wall Street, told Bloomberg.
ProPublica also notes that there appears to be a revolving door between Goldman Sachs and the New York Federal Reserve. William Dudley, the president of the Federal Reserve, is a former Goldman Sachs partner. The head of Goldman Sachs risk committee is the former chair of the Federal Reserve, and William Dudley, the former president of the Federal Reserve, now works at Goldman Sachs.
The Federal Reserve has refused to comment in detail on Segerra's allegations, "Such concerns are treated seriously and investigated appropriately with a high degree of independence," New York Federal Reserve spokesman Jack Gutt told the website. "Personnel decisions at the New York Fed are based exclusively on individual job performance and are subject to thorough review. We categorically reject any suggestions to the contrary." 
AMP Section Name:
Financial Services, Insurance and Banking