EuroZone Profiteers: Depfa and Hypo Real Estate
One-Eyed Man Becomes King in the Land of the Blind
Image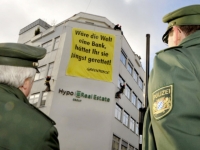 What:Deutsche Pfandbriefbank. Founded 1922 as a public bank to finance small-scale residential construction, its total assets were worth €218 billion at its peak in 2007.

Where: First based in Berlin, Germany; headquarters moved to Dublin in 2002.

Why: Privatized in 1992. It borrowed in short-term markets to lend for risky private- and public-sector projects in Greece, Ireland, and Spain. Depfa was bought up by Hypo Real Estate, which eventually needed a €10 billion bailout and €142 billion in state guarantees.

Outcome:It was forced to borrow up to $28.5 billion from the U.S. Federal Reserve in November 2008. The German government renationalized it via a series of bailouts. It has closed to new business, and must be sold off by 2015.

---
Gerhard Bruckermann, the son of a manager of the credit department of a local bank, was appointed CEO of Depfa in 2002. He quickly moved the headquarters to Dublin to take advantage of the low tax rates, although he personally divided his time between London and a Spanish farm where he grew rare medicinal plants. [60]


"Our corporate governance has changed from the German model to the Anglo-American model," Bruckermann boasted to Institutional Investor in 2003.[61] Depfa made long-term loans to governments using money it borrowed from other banks at cheaper, short-term rates, and then pocketed the difference. Depfa would then refinance the loans.

Of course, this model only worked as long as there was enough money around to continue to borrow at low interest rates. Depfa also sold complicated collateralized debt obligations (CDO) and German bonds that were backed by loans or securities issued by the public sector.[62]



It wasn't hard to find clients. At the time, many cities and government agencies that were strapped for cash and plagued by debt, were eager to borrow from unconventional-but established and apparently trustworthy-financiers like Depfa. According to Reuters, between 2005 and 2008, sales of CDOs and other complex financial products increased 270 percent over the previous four years.[63]

For example, according to its 2007 annual report, Depfa helped the city of Jerez, Spain, refinance its debt; provided credit advice to Athens; financed a conference center in Dublin and a toll road between Tijuana, Mexico, and San Diego, California; and invested retirement funds for teachers in Wisconsin.[64]

"Selling these products to municipalities was pretty widespread," Janet Tavakoli, a finance industry consultant in Chicago, told the New York Times. "They tend to be less sophisticated. So bankers sell them products stuffed with junk."[65]

Bruckermann wasn't even embarrassed about selling these risky products to non-commercial clients. "With our efforts, we are like the one-eyed man who becomes king in the land of the blind," he once boasted to a trade publication quoted in the New York Times.[66]

At exactly the same time HypoVereinsbank, a German private bank now known as the HVB Group, also decided to create an independent entity to manage its commercial real estate financing operations. Hypo Real Estate, set up in 2003, quickly became the second largest public finance bank and mortgage lender in Germany, issuing loans and selling bonds and CDOs to municipal governments worldwide.[67]

In 2007, the international and U.S. economies had already begun to stagnate. Both Hypo and Depfa, whose profits had grown through funding large-scale projects such as luxury shopping centers, high-end business complexes, and extravagant tract home developments, became some of the first victims of the global recession. As mentioned previously, Depfa's model of borrowing and lending made it almost wholly dependent on short-term credit provided by other banks.

One year before the U.S.-based investment bank Lehman Brothers collapsed in 2008, Hypo, led by chief executive, Georg Funke, bought Depfa for €5.7 billion.[68] Depfa CEO Bruckermann pocketed more than €100 million as commission from the deal, and then left the bank abruptly, effectively dropping out of sight.[69]

All told, during the boom years before the financial collapse, Hypo handed out more than €200 billion to finance similarly risky real estate developments worldwide-some of which were linked to the U.S. subprime mortgage crisis.[70]

After Lehman Brothers went bankrupt in September 2008, banks stopped extending short-term credit to each other.[71] Suddenly, Depfa - now a wholly owned subsidiary of Dublin-based Hypo-could no longer continue borrowing at the rate necessary to sustain its operations and pay its own increasing debts. Additionally, Hypo had lent some €80 billion to Greece, Ireland, Italy, Portugal, and Spain, where the real estate markets were plummeting.[72]

The merged bank faced imminent bankruptcy, and threatened to drag down the rest of the economy with it. Within weeks, the German government agreed to an initial bailout of Hypo, with state guarantees and loans worth €35 billion.[73]

Still, Hypo tried to keep up appearances. In November 2008, Funke denied that it had been a mistake for Hypo to buy Depfa. "Since its takeover in October 2007, Depfa Bank has become an essential part of Hypo Real Estate's business and success," he stated in a press release.[74]

In December 2008, Funke was fired.

That same month, investigators from the Munich public prosecutor's office raided multiple Hypo offices and properties associated with Hypo's former board members. The criminal investigation against Hypo was brought by a shareholder interest group. The prosecutor's search warrant alleged "false statements," "market manipulation," and "breach of trust" by current and former members of Hypo's board. Prosecutors said they believed that Hypo's directors had concealed important information from the public for more than a year, and that the board had not restructured at the necessary time.[75]

BaFin, Germany's banking regulator, also investigated the company for insider trading and other violations. Hypo executives maintained that the board hadn't known the true state of affairs.[76]

Matters did not improve for Hypo the following year. After continued losses, the bank was nationalized by the German government in October 2009, and its remaining shareholders were forced out.[77]

That same year, Funke sold his Munich mansion, and took up residence on the Spanish island of Mallorca.[78] He sued Hypo for firing him over the bank's bailout, demanding salary payments for part of 2009, as well as pension pay. He won a preliminary ruling in October 2010, and the Munich Regional Court awarded him €150,000-the equivalent of two months' salary. Hypo said it would continue legal action to prove that the bank had fired Funke with good cause.[79]



Ultimately Hypo Real Estate's misadventures would cost the German government €10 billion in bailout funds and €142 billion in state guarantees.


---
[60]

Duhigg and Dougherty, Op. Cit.

 

[61] Institutional Investor, "Hallo Dublin, Hallo World," Institutional Investor, June 1, 2003. http://www.institutionalinvestor.com/Popups/PrintArticle.aspx?ArticleID=1026886

[62] Duhigg and Dougherty, Op. Cit.

[63] Duhigg and Dougherty, Op. Cit.

[64] Ewing, Op. Cit.

[65] Duhigg and Dougherty, Op. Cit.

[66] Duhigg and Dougherty, Op. Cit.

[67] Joseph Cotterill, "Top Greek Bond Exposure Pops," Financial Times, June 17, 2011. http://ftalphaville.ft.com/tag/hypo-real-estate/

[68] Oliver Suess and Aaron Kirchfeld, "Hypo Real Estate Plans to Buy Depfa for EU5.7 Billion (Update9)," Bloomberg, July 23, 2007. http://www.bloomberg.com/apps/news?pid=newsarchive&sid=aoGy3WkrF5Eo

[69] Beat Balzli, Dinah Deckstein, and Jorg Schmitt, "Inside Trading Alleged at Hypo Real Estate: A Black Hole in the Banking Bailout," Spiegel Online, December 29, 2008. http://www.spiegel.de/international/business/insider-trading-alleged-at-hypo-real-estate-a-black-hole-in-the-banking-bailout-a-598499.html

[70] Ewing, Op. Cit.

[71] Federal Reserve, "What were the Federal Reserve's Emergency Lending Facilities During the Financial Crisis?," Federal Reserve Frequently Asked Questions, Date Accessed: September 1, 2013. http://www.federalreserve.gov/faqs/banking_12842.htm and David Ellis, "Wall Street on Red Alert," CNN Money, September 15, 2008. http://money.cnn.com/2008/09/14/news/companies/lehman_brothers/

[72] Reuters, "Update 2-Hypo Real Estate has 80 Bln Eur PIIGS Exposure," Reuters, May 7, 2010. http://www.reuters.com/article/2010/05/07/hyporealestate-idUSLDE64606G20100507

[73] Brian Parkin, "German Government, Banks Bail out Hypo Real with EU35 Billion," Bloomberg, September 29, 2008. http://www.bloomberg.com/apps/news?pid=newsarchive&sid=abUld_hTfje0

[74] DEPFA Bank, "Board of DEPFA Bank Plc Appoints Cyril Dunne as CEO; Manuela Better to Take Over as Chief Risk Officer," DEPFA Bank press release, September 5, 2008. http://www.hyporealestate.com/uploads/media/PI-DEPFA_Board_engl.pdf

[75] Balzli, "Insider Trading Alleged at Hypo Real Estate," Op. Cit.

[76] Balzli, "Insider Trading Alleged at Hypo Real Estate," Op. Cit.

[77] Reuters, "Hypo Real Estate is Nationalised with Squeeze Out," Reuters, October 13, 2009. http://www.reuters.com/article/2009/10/13/hyporeal-idUSLD67573320091013

[78] Handelsbatt, "Ex-HIRE-Chef Handelt mit Traumhausern auf Mallorca," Handelsbatt, March 1, 2012. http://www.handelsblatt.com/unternehmen/management/koepfe/georg-funke-ex-hre-chef-handelt-mit-traumhaeusern-auf-mallorca/6275652.html

[79] Karin Matussek, "Ex-Hypo Real Estate CEO Funke Wins Ruling, $211,000 in Suit Over Dismissal," Bloomberg, October 15, 2010. http://www.bloomberg.com/news/2010-10-15/former-hypo-real-estate-ceo-funke-wins-order-211-000-in-case-over-firing.html
AMP Section Name:
Financial Services, Insurance and Banking