BCG, McKinsey & PwC Consultants Implicated in Angola Corruption Scandal
Image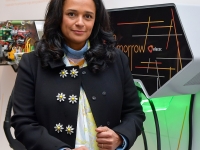 Three major global consulting firms - Boston Consulting Group, McKinsey Consultants & PricewaterhouseCoopers - have been implicated in helping Isabel dos Santos, daughter of the former president of Angola, become a billionaire allegedly by plundering state coffers.
"They are there as all-purpose providers of whatever these elites are trying to do," Ricardo Soares de Oliveira, an international politics professor at Oxford told the New York Times. "They have no moral status — they are what you make of them."
Details were revealed in the Luanda Leaks, a trove of 715,000 confidential financial and business records, provided to the International Consortium of Investigative Journalists (ICIJ), through the Platform to Protect Whistleblowers in Africa, a Paris-based advocacy and legal group.
Together with her husband Sindika Dokolo, dos Santos ran 'an empire of more than 400 companies and subsidiaries in 41 countries, including at least 94 in secrecy jurisdictions like Malta, Mauritius and Hong Kong' according to ICIJ. The couple bought properties all over the world including £13 million 'iceberg mansion' in Kensington, a $55 million mansion in Monte Carlo, a $35 million yacht as well as a luxury residence in Dubai. They lived large throwing lavish parties for their jet setting friends, including once reportedly spending $1 million to fly singer Mariah Carey out to provide entertainment.
Dos Santos is the eldest daughter of José Eduardo dos Santos, Angola's former president who ruled the country from 1979 to 2017. Trained as an engineer in the UK, she returned to Angola to run a number of businesses in the 1990s with lucrative contracts from her father and low interest loans from government entitities, according to the new documents as well as other investigative reports over the years.
For example, the government awarded a company controlled by dos Santos and her mother a 24.5 percent share in the Angola Selling Corporation with an exclusive license to market Angolan diamonds. Meanwhile, her husband bought a stake in De Grisogono, the Swiss luxury jeweler, in partnership with Sodiam, the Angolan state diamond company, with a $4 million of a €5million 'success fee' that Sodiam gave to him in secret, according to the documents. Sodiam is now estimated to have lost $200 million on the deal.
President dos Santos also gave a number of lucrative contracts such as a $15 billion deal to re-develop Luanda, the Angolan capital, to two companies controlled by his daughter: Landscape and Urbinveste.
In 2015 Angola awarded a $4.5 billion contract to build the Caculo-Cabaça dam and hydropower station to a consortium that included a Hong Kong company controlled by Isabel dos Santos.
Dos Santos also made a number of strategic purchases such as a stake in Galp, the Portuguese energy company, which she bought from Sonangol, the country's state oil company for just over $12 million and a $70 million low-interest loan in 2006. Her stake alone is now worth $800 million.
In 2016, dos Santos was appointed chair of Sonangol, although she was fired the following year after her father stepped down as president. The day she was fired, she transferred $58 million to a company in Dubai, in the United Arab Emirates, where she now lives, according to the newly leaked documents.
In addition to allegedly lining her own pockers, dos Santos has also been accused of riding roughshod over the rights of ordinary Angolan citizens. For example one of the Luanda beautification projects that her companies planned involved building a coastal road and a luxury hotel in a beach front area named Areia Branca for which thousands were evicted and their houses demolished. "They kept us for seven days in front of our ruined houses, in the open air, without food or water," Talitha Miguel, a 41-year-old former schoolteacher, told ICIJ.
While most of these transactions involved shell companies, dos Santos also paid several global firms to advise her on the transactions. While a number of international banks like Citibank, Deutsche Bank and Banco Santander refused to do business with her, she was able to cut deals with some of the biggest consultants in the field, most notably PricewaterhouseCoopers. (Dos Santos once worked for Coopers & Lybrand, which is now part of PwC).
"The incentive structure makes it still too easy and too lucrative and not risky enough for them to engage in that dirty business," Markus Meinzer, director of financial secrecy at the Tax Justice Network, told ICIJ.
Not surprisingly dos Santos and Dokola deny the allegations. "There is an orchestrated attack by the current government that is completely politically motivated, it's completely unfounded," dos Santos told BBC News. "I can say my holdings are commercial, there are no proceeds from contracts or public contracts or money that has been deviated from other funds."
But those impacted by their development projects say that dos Santos has profited from their misery. "I only ask God to make her think a little more about our situation," Teresa Vissapa, mother of seven who lost her business to a beach front development by dos Santos, told the BBC. "Maybe she doesn't even know it, but we are suffering."
* Boston Consulting Group was hired to help run a heavily indebted Swiss jewelery firm named De Grisogono that Dokolo tried to save with $120 million in Angolan state loans. A former CEO of De Grisogono described the international consultant as the 'shadow management' of De Grisogono but they failed to keep the business afloat under the new owners. (De Grisogono filed for bankruptcy days after the Luanda Leaks were published.)
* McKinsey Consultants was to paid restructure Sonangol, Angola's state oil business with the help of Boston Consulting Group. Both were paid for their work via a Malta shell company, owned by dos Santos.
McKinsey also advised dos Santos on Efacec, a Portuguese engineering firm which she owned, and Unitel, the Angolan mobile phone company, which she owned and served as chairwoman.
* PricewaterhouseCoopers, (recently rebranded as PwC) acted as accountant, consultant and tax adviser to over a dozen of the dos Santos companies, including Sonangol. (Jaime Esteves, the partner in charge of tax for Angola, Cape Verde and Portugal, resigned from the global accounting firm immediately after the leaks came out.
(They weren't the only ones. All the other Big Four accounting firms had contracts with dos Santos. Deloitte audited Finstar, an Angolan satellite TV company; and Ernst & Young audited ZOPT, a dos Santos holding company, while KPMG did work for Urbinveste. But PwC had the biggest number of contracts)
"PwC, if not facilitating the corruption, are providing a veneer of respectability that makes what's happening acceptable or more acceptable than it might otherwise be," Tom Keatinge, director of the Centre for Financial Crime and Security Studies at the Royal United Services Institute in London, told the BBC's Panorama program. "So if I was at PwC I'd be conducting a pretty thorough audit of what decisions were made, and in hindsight actually: 'Did we make the wrong decision to accept this business and should we have reported what we had been presented with?'"
Indeed, PwC wasted no time in following his advice. "In response to the very serious and concerning allegations that have been raised, we immediately initiated an investigation and are working to thoroughly evaluate the facts and conclude our inquiry," the firm said in a official statement. "We have also taken action to terminate any ongoing work for entities controlled by members of the dos Santos family."