How the village of Goi, Nigeria took on Big Oil and won

This is #11 in our series of Instagram infographics on resistance against corporate power. (June 18, 2022)
Image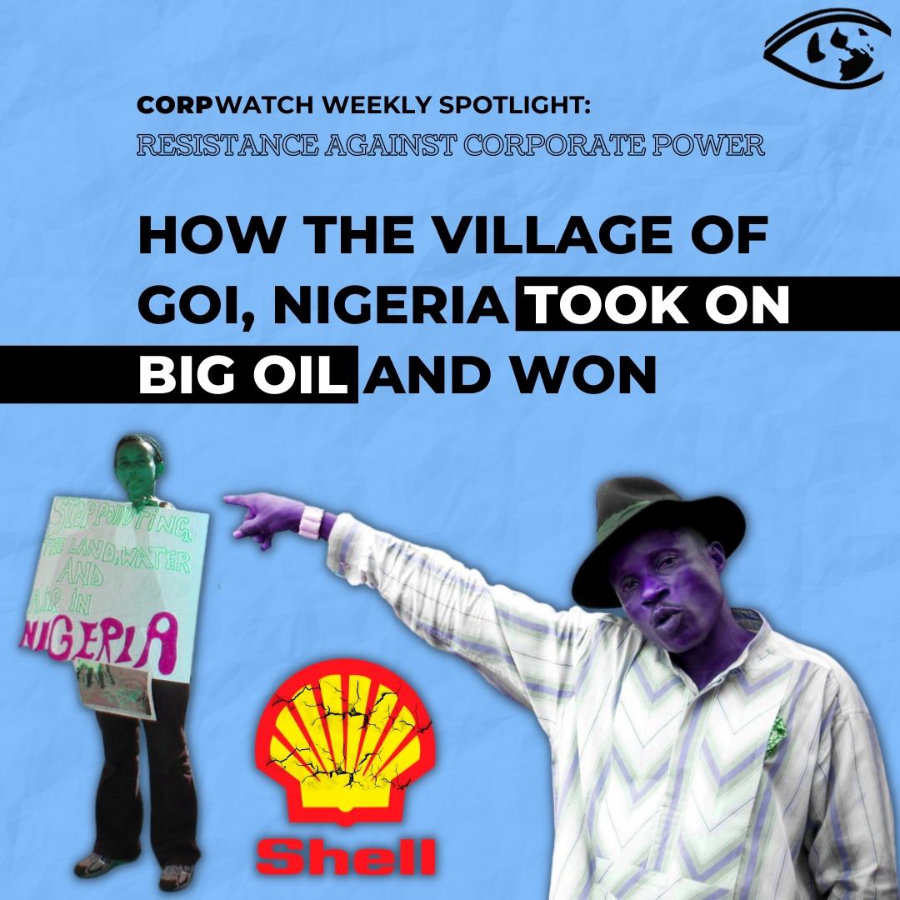 Click here to see full post on Instagram. A text version can be seen below.

 #1: How the village of Goi, Nigeria took on Big Oil and
#2: What's the story?
In October 2004, an oil leak from a Shell pipeline caused long-lasting damage and contamination in the village of Goi in the Niger Delta region of Nigeria. In 2008, a group of affected Nigerians filed a lawsuit against Shell and SPDC, its Nigerian subsidiary, in the Netherlands, with the help of Friends of Earth Nigeria and Milieudefensie. In January 2021, the court ruled in their favor.
#3: "We were eating, drinking, breathing the oil" – Eric Dooh, Goi village and principal plaintiff.
#4: Quick facts
- 1.5 million barrels of oil are pumped from the Niger Delta region daily.
- By 2000, oil accounted for 40% of Nigeria's GDP.
- Badly maintained pipelines and lax regulation led to leaks and spills.
- Shell has reported 1,010 oil leaks since 2011 = 17.5 million litres spilled in the region.
- Niger Delta is now one of the most polluted places in the world.
#5: Village of Goi
The people of the Niger Delta depend solely on fishing and farming as their only source of food and income. Ever since Shell started drilling for oil in 1956, oil leaks and spills have devastated the region. Eric Dooh and his family – residents of Goi - lost a thriving chicken farm and bakery, their fishponds and livelihoods. Six years after the 2010 oil leak, they had to be evacuated together with all the other residents of the village.
#6: Two other villages also sued Shell
Oruma, a village located 90 miles from Goi, saw 63,600 litres of oil spill from a nearby Shell pipeline in 2005.
Ikot Ada Udo, another village in the Niger Delta region, saw 100,000 liters of oil leak from an above ground Shell wellhead in 2007.
#7: "It is incomprehensible to imagine that if these spills and this level of pollution occurred in North America or Europe that it would be allowed to happen" – Mark Dummet, director of Amnesty International's global issues programme.
#8: Lawsuit & historic verdict
Chima Williams, a Nigerian environmental and human rights lawyer, sued Shell and SPDC in the Netherlands in 2008. Shell claimed that the incident in Goi was caused by local saboteurs, but in 2021, a Dutch court ruled that SPDC was liable for 4 out of the 6 leaks listed in the lawsuit and ordered them to compensate residents for damages.
#9: "Finally, there is some justice for the Nigerian people suffering the consequences of Shell's oil. It is a bittersweet victory, since two of the plaintiffs, including my father, did not live to see the end of this trial. But this verdict brings hope for the future of the people in the Niger Delta." – Eric Dooh, main plaintiff.
#10: Company Response
"We will pay compensation. We didn't lose the case. It was not operational failure. The leak was the consequence of sabotage," Royal Dutch Shell's vice president for environment.
Sources
https://www.reuters.com/article/us-shell-nigeria-lawsuit-idUSBRE90S16X20130130
https://www.theguardian.com/environment/ng-interactive/2022/jun/01/oil-pollution-spill-nigeria-shell-lawsuit
https://www.business-humanrights.org/en/latest-news/nigeria-in-landmark-verdict-dutch-court-rules-shell-nigeria-responsible-for-niger-delta-oil-spills-royal-dutch-shell-violated-its-duty-of-care/
Text by Elena Rogozenska. Design by Elisa Emch. Layout: Paula Reisdorf.