Image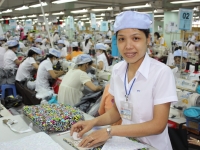 We believe that every person should be paid a living wage, guaranteed minimum hours, and access to fundamental rights such as safe and healthy workplaces.
Low wages, long hours and abuse have been a hallmark of unskilled and semi-skilled employment for centuries, from the seamstresses of Victorian England to the plantation workers enslaved in Alabama, the Carolinas, Maryland, Mississippi and Virginia. In modern times, garment workers in Bangladesh and Cambodia; electronics workers in China; migrant workers in the Middle East and agricultural workers from California to Florida, and fast food workers in companies like McDonalds and Burger King are routinely exploited by employers.
To this list, one can now add the expanding global unskilled and semi-skilled workforce employed to service Silicon Valley's online 'apps' like Amazon and Uber. These include warehouse jobs; delivery jobs; and driving services; some of the fastest growing sectors in the West today. Because many of these jobs pay based on demand for small, discrete tasks (hence the moniker 'gig' economy), the workers have little power over their take home salaries and are even required to maintain their own tools and transportation like smartphones and vehicles. Yet other gig workers perform on demand, doing packing and sorting for online shoppers in vast retail delivery warehouses from rural Ohio to east Germany. None of them have an assured future.
In fact, most of these gig workers are denied basic employment rights like minimum wages, guaranteed hours, overtime payment, union support, unemployment benefits and maternity leave. Sexual assault, occupational injuries and illness are common complaints. One tragic case that hit the headlines in January 2018 was that of Don Lane, a UK courier for a company called DPD, who collapsed and died after he was charged £150 because he missed a shift for a medical appointment.
Data on these jobs is beginning to emerge: 2.8 million people, or 9 percent of the UK workforce were gig workers in 2017. Of that number, a quarter were paid below national minimum wage. A recent study by the Massachusetts Institute of Technology estimated that Uber drivers in the U.S. could be making as little as $3.37 an hour. And one in ten Amazon employees in Ohio needs government assistance to make ends meet, according to analysis conducted by Policy Matters Ohio, a Cleveland-based research group. This is despite the fact that, since 2014, the state of Ohio has given Amazon over $125 million in subsidies to expand.
Author James Bloodworth says there is now a "permanent class of people who live a fearful and tumultuous existence characterized by an almost total subservience to the whims of their employers." He quotes Jason Moyer-Lee of the Independent Workers Union of Great Britain that if the public did not stop the mistreatment of Uber drivers and Deliveroo riders, one day everyone could wake up to find their employment rights gone. (Indeed, management consultants McKinsey estimate that between 20 and 30 per cent of the working-age population in the European Union and the U.S. — as many as 162 million people — are now 'independent' workers.)
Wall Street loves these new, low-paying online ventures, and has rewarded many with a spigot of cash and billion-dollar valuations. Amazon was worth $702.5 billion in early 2018, a stock value greater than Microsoft. Uber is now worth more than $68 billion and Didi Chuxing (a similar Chinese taxi app) is worth $50 billion. And the owners of these companies (often called 'unicorns') have become modern day equivalents of the robber barons. Jeff Bezos of Amazon is worth $131 billion, the richest person in the world. Travis Kalanick, the founder of Uber, is worth $4.8 billion, while Mike Ashley, the owner of Sports Direct in the UK, who has been questioned over near-slavery practices, is worth $2.8 billion.
We will build support for Good Jobs by pushing for transparent and fair living wages and full benefits for all workers; and by holding companies responsible for unsafe and illegal working conditions accountable. We will call for an overhaul of employment laws and a more robust enforcement system against companies that exploit workers.