World Bank Orders Venezuela To Pay Crystallex $1.4 Billion For Gold Mine
Image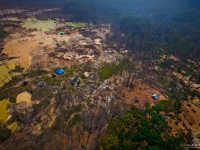 The World Bank's International Centre for Settlement of Investment Disputes (ICSID) has ordered the government of Venezuela to pay $1.386 billion to Crystallex, a bankrupt Canadian gold mining company, for canceling a 2002 permit to mine for gold in the Imataca Forest Reserve.

Crystallex brought its arbitration claim to the ICSID in 2011 stating that Venezuela had violated the company's rights guaranteed under a bilateral treaty between Canada and Venezuela.

Even though most national courts refuse to hear community claims against companies for environmental or human rights abuses abroad, a number of international 'arbitration' courts routinely rule allow companies to sue governments for investment 'rights' written into new bilateral and multilateral treaties.  (ICSID alone is currently hearing 211 cases)

Imataca, one of four major pristine forest reserves in the country, is home to the indigenous Akawaio, Arawako, Karina, Pemon and Warao peoples. It also sits above what geologists believe to be the largest gold deposits in the continent worth some $20 billion.

In recent years successive governments have extended environmental protection over most of the region but specifically excluded the gold mining area. This was despite regular protests by the indigenous communties to protect the area from environmental damage. "The forest is our home, our laboratory, our hospital, our university. It is the source of the knowledge we need to survive," Jose Gonzales, the coordinator of the Federation of Indigenous People of the State of Bolivar, Venezuela, said in an international appeal almost 20 years ago.

Over time, the area has been invaded by small scale diamond and gold miners who have destroyed almost a tenth of the forested area. For some 50 years, mining investors have also battled to gain access to two adjoining sites - Las Cristinas and Las Brisas - where they hope to use large scale open pit cyanide heap leach technology to extract the deep underground reserves of the precious metal.

Unfortunately for the mining companies, every deal has quickly become mired in a series of legal or political disputes. At one point Placer Dome, a Canadian multinational, had a joint venture to dig for gold at Las Cristinas with state-owned Corporacin Venezolana de Guayana (CVG), which they sold off for just $50. Others like Chinese state investment company CITIC and Russian-Canadian miner Rusoro have also attempted to cut deals with Venezuela, only to ultimately fail.

In 2002, the government of Hugo Chavez handed the rights to mine for gold to Crystallex, but then in an about turn, decided to cancel the permit on environmental grounds in February 2011. Crystallex immediately filed an arbitration claim but was forced to declare bankruptcy later that year.

Earlier this week, the World Bank ruled in favor of Crystallex awarding the company $1.2 billion plus almost $200 million in interest. "We are pleased that the Tribunal has recognized Venezuela's unlawful expropriation of the company's investment in the Las Cristinas mining project," Robert Fung, Crystallex CEO said in a press release. "The company looks forward to collecting on the award on behalf of all of its stakeholders."

The court decision marks yet another milestone in corporate victories against national governments using international trade treaties. For example in 2014 Kazakhstan was ordered to pay Stans Energy of Canada $118 million for a rare earths mine. And last year Mongolia was ordered to pay Khan Resources of Canada $70 million for the Dornod uranium project. And Venezuela was ordered to pay $740 million for canceling a permit issued by Gold Reserve Inc., also from Canada, for the Las Brisas mine.