Workers at Saint Gobain Factory in Mexico Defeat Company Backed Union
Image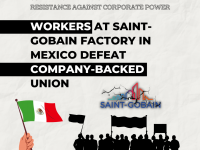 Workers at construction materials company Saint Gobain's factory in Cuaulta, Morelos, Mexico, defeated company-backed union Confederation of Workers & Peasants (CTC) to set up a new union named the Independent Union of Free and Democratic Workers of Saint-Gobain. The victory over CTC was a result of major labor law reforms enacted in 2019.
"This vote represents a historic opportunity for independent unionism to end 24 years of abuse, from a union that does not really represent us and that for more than two decades negotiated behind our backs." - Joaquin Guzman Angel, general secretary of the independent union.
Saint-Gobain 
Compagnie de Saint-Gobain, based outside Paris, France, has expanded from making mirrors in 1665 to become a major supplier to the construction industry. The Cuaulta factory - one of nine Saint-Gobain factories in Mexico - employs 1,900 workers to make tempered glass for vehicles notably for Ford, Tesla and Volkswagen. The company's annual global revenue was €44.2 billion in 2021. 
Corporate Capture
Workers say that the CTC-affiliated Glass Industry Workers Union failed to include them in salary negotiations or defend them in wage disputes.
"I had told them that my job carrying 67 pounds of glass was hurting my back and I wanted a different position, but they would tell me it was not possible." – Ana Lilia Ramon Martinez, factory employee who suffered a spine injury.
Labor Law Reform
In 2019, the Mexican parliament enacted sweeping changes to labor laws under the U.S.-Mexico-Canada Agreement, allowing workers to review agreements with the powerful national unions. The first major shake-up took place in 2022, when 6,500 General Motors workers in Silao, Guanajuato, voted to reject the Confederation of Mexican Workers (CTM) and join the National Union of Auto Workers (SINTTIA).
New Union
In April 2021, workers at the Saint-Gobain factory began to meet in secret to set up a new union. One of the main organizers was Gabriel Mendoza, a former CTC union delegate who had worked at the factory for 21 years, who says that the union arranged to have him fired after he stood up for his co-workers.
Slander, Defamation and Misinformation
In July 2022, the factory employees voted to 814 to 700 to reject the labor agreement signed by the CTC, triggering an election for a new union. Workers who rejected CTC say they were harassed. "Our union has been the subject of slander, defamation and misinformation by the other union," said general secretary Guzman.
Workers Win
In September 2022, the workers voted 957 to 578 to replace the CTC with the Independent Union of Free and Democratic Workers of Saint-Gobain.
Company Response 
Saint-Gobain has not offered a response to the vote. CTC has denied threatening workers. 
This is #36 in our series of Instagram infographics on resistance against corporate power.
Click here to see the full post on Instagram.