Weapons Makers Profit from Indonesia's War on West Papua
Image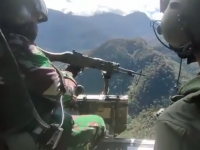 Six rockets landed on Ugimba village in Intan Jaya regency of West Papua, Indonesia, early on a January morning in 2020. Locals found unexploded parts that were stamped with the number FZ-68 so they took pictures to share with international activists who circulated them on Twitter requesting help.
Image
Within days, several replies came back identifying the rockets as the product of Forges Zeebrugge, a subsidiary of Thales Belgium, which makes FZ-68 rockets.
The rockets were fired by the Indonesian military – in revenge for the alleged killing of two soldiers by the West Papua National Liberation Army on December 17, 2019. The attack was quickly condemned by Free West Papua, an organization of Papuan exiles, for destroying the homes of innocent locals. "We hope that mounting international pressure will stop countries selling arms such as this to Indonesia, which is evidently using them for war crimes in occupied West Papua," the organization tweeted out.
Similar incidents in recent years have allowed activists to identify other companies whose weapons have been positively identified to have been used in offensive attacks by the Indonesian military on West Papua, the western half of the island of New Guinea. For example, AH-64 Apache attack helicopters produced by Boeing were identified in April 2021 in Puncak regency. Mortars produced by Krušik were identified in Pegunungan Bintang regency in October 2021, together with guns produced by Heckler & Koch, whose weapons are regularly carried by the Indonesian military.
In each of these three incidents, the attacks by the Indonesian military were justified by the Jakarta government as a suitable response to actions of armed rebels fighting for independence, a war that has lasted almost 60 years, ever since Indonesia, took control of West Papua in 1963, two years after the Dutch colonial government relinquished control.
Since the takeover, Indonesia has handed out permits on the island, which is home to the third largest tropical rainforest in the world, to mining companies like Freeport McMoRan from Louisiana as well as local timber and palm oil companies. In exchange for a percentage of the revenue from the extractive projects by these companies, the Indonesian military has carried out arrests, shootings, and aerial bombardments of any resistance.
As far back as the 1970s, Bronco aircrafts (made by Rockwell Automation from Wisconsin) and Iroquois helicopters (made by Bell Textron of Rhode Island) were identified by former Australian military personnel as instrumental in firing rockets at villages in the Baliem valley in the highlands of West Papua, killing as many as 9,000 Papuans, according to reports by the Asian Human Rights Commission.
In 2012, a coalition of 90 human rights groups organized by the East Timor and Indonesia Action Network (ETAN) and the West Papua Advocacy Team, wrote to the U.S. Congress, asking legislators to deny the sale of Apache attack helicopters, made by Boeing, the airplane company from Washington state, to Indonesia.
"Providing these helicopters would pose a direct threat to Papuan civilians," they wrote. "Homes are destroyed, along with churches and public buildings. These assaults, purportedly to eliminate the poorly armed Papuan resistance, force innocent villagers from their homes. Papuan civilians either flee the attacks to neighboring villages or into the surrounding forests where many die or face starvation, cut off from access to their gardens, shelter and medical care."
Nine years later, the prediction of the groups came true, when a video of soldiers firing at villages in Puncak regency from an Apache helicopter was shared on social media. The attack was believed to be revenge for the killing of Gusti Putu Danny Nugraha Karya, Indonesia's chief of intelligence in West Papua, when he visited the village of Dambet on April 25, 2021.
Likewise, mortar rounds manufactured by Krušik, a Serbian state-owned arms manufacturer, were photographed and identified by villagers in October 2021 after they were dropped from drones and helicopters by the Indonesian military. At the time, the military was carrying out an offensive against the West Papua National Liberation Army, whom they accused of killing a health worker in Kiwirok district.
International activists have joined in solidarity with Papuans to protests the sales of these weapons systems to Indonesia. For example, Jason MacLeod and David Johnson, two Australian antiwar activists, locked themselves to the doors of the Brisbane offices of Thales in protest in May 2021.
"Given the failure of dialogue and given the failure of conventional political processes to protect our neighbors, I have no other choice but to engage in determined, disciplined, and strategic nonviolent action to prevent further violence by people using weapons, vehicles and munitions made by Thales," MacLeod said.
However, weapons companies have been loath to stop such sales with the possible exception of Heckler & Koch, a major arms company based in Baden-Württemberg, Germany. In 2017, Heckler & Koch agreed to stop exporting their guns to a number of countries with high incidences of human rights abuses, including Indonesia, after a decades-long campaigns by antiwar activists.