Telupac Holdings' Plan to Mine Under Australia's Jarrah Forests Defeated by Buddhist Monks
Image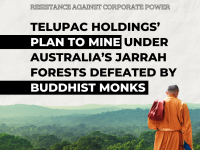 Mining company Telupac Holdings requested a government permit to explore for minerals under the unique Northern Jarrah Forest close to the city of Perth. The area included a monastery belonging to the Buddhist Society of Western Australia. The monks' campaign to block Telupac's application was successful when the company withdrew their application in August 2023.
"You can see the power of the community. You have to keep the pressure on. As soon as the community rises up, they can stop these proposals quickly." - Ajahn Appicchato, senior monk at Bodhinyana monastery.
Northern Jarrah Forest
The Jarrah tree is an Australian hardwood which can grow up to 50 metres high and 3 metres wide. The Northern Jarrah Forest, located close to the city of Perth in the state of Western Australia, is home to over 8,000 species. The area also has significant underground deposits of aluminium, lithium, and nickel.
Telupac Holdings
Mark Creasy, a billionaire mining prospector who made his fortune in the Bronzewing and Jundee gold mines, and the Nova nickel mine in Western Australia, owns Telupac Holdings. Telupac applied for permission to prospect for minerals in an area of over 133,000 hectares in the Northern Jarrah forests.
Alcoa and Rio Tinto
Other companies have also applied for permission to explore for minerals under the Jarrah forests, notably Pittsburgh-based Alcoa and London-headquartered Rio Tinto. Over 1,500 complaints were lodged against these exploration plans - convincing both companies to withdraw their permit requests in June 2023.
Buddhist Monastery
The Northern Jarrah Forest is also home to the Bodhinyana monastery, a small monastery and retreat center that has been run by the Buddhist Society of Western Australia since 1983. Like other local residents, they were not notified of the plans since the companies don't have to get permission from landholders if they are digging more than 30 meters below the surface.
"What you see there is a presumption in favour of mining, rather than in favour of protecting water supplies and the community interest." - Jess Beckerling, campaign director of Western Australia Forest Alliance.
Monks Succeed
Once the monks found out about Telupac's exploration plans, they began attending public meetings, distributing leaflets, and petitioning the authorities to have the application blocked. Local activists Jarrahdale Forest Protectors also brought an unsuccessful complaint against the company at the Warden's Court. In August 2023, Telupac unexpectedly withdrew its permit request.
Company Response
The company has not indicated any specific reasons for withdrawing their application for mineral exploration in the Northern Jarrah Forest.
This is #57 in our series of Instagram infographics on resistance against corporate power.
Click here to see the full post on Instagram.
📸 4/10 King Jarrah by Amanda Slater - https://www.flickr.com/photos/pikerslanefarm/3409907218/in/album-72157617588646102/