Surveillance Firm UC Global at Center of Lawsuit over Spying on Wikileaks Founder
Image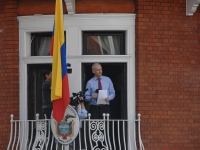 Undercover Global (UC Global), a now defunct private military contractor, is at the center of a lawsuit brought by a group of journalists and lawyers against the U.S. Central Intelligence Agency for allegedly spying on them when they met with Wikileaks founder Julian Assange at Ecuador's embassy in London.
The lawsuit, which was filed in August against the CIA as well as UC Global in federal courts in New York, was brought by journalists Charles Glass and John Goetz, as well as lawyers Margaret Ratner Kunstler and Deborah Hrbek, all of whom are U.S. citizens.
"The Fourth Amendment to the United States Constitution protects U.S. citizens from being subjected to unreasonable searches and seizures," Robert Boyle, one of their lawyers said at a press conference. "These Fourth Amendment protections were blatantly violated. The contents of the plaintiffs' digital devices were secretly copied by security personnel recruited by the CIA and then that information was turned over to the CIA. This was part of an intentional plan."
Founded in 2008 by David Morales, a former Special Forces soldier in the Spanish military, and registered in Jerez de la Frontera, a city in Andalusia, Spain, UC Global offered training and security operations for the protection of goods and people in low-intensity conflicts, as well risk mitigation, evacuation and rescue plans.
In 2012, UC Global won a contract from Secretaría Nacional de Inteligencia (Ecuador's main intelligence agency), to provide security for the embassy of Ecuador in London. It was also tasked with providing security for Julian Assange, who took refuge in the embassy in August 2012, to escape extradition to the United States over espionage charges for publishing classified information from U.S. government agencies, that Wikileaks says show evidence of war crimes committed in Afghanistan and Iraq.
According to reports in El País newspaper, UC Global installed specialized video surveillance equipment to spy on Assange in December 2017 until their contract was terminated in April 2018. The data was then allegedly made available to the CIA.
"Recording devices and cameras in the rooms where Mr. Assange ...essentially live streamed what he was doing and saying back to Washington," Richard Roth, another of the lawyers in the New York lawsuit, told Law and Disorder radio. "I think that there was clearly a desire to bring down Julian Assange any way possible."
The decision to spy on Assange coincides roughly with the time that Lenin Moreno was took over as president of Ecuador in May 2017 who had made no secret of his desire to evict Assange. (Assange was granted asylum in the embassy by the government of Rafael Correa, Moreno's predecessor.)
On April 10, 2019, Kristinn Hrafnsson, Wikileaks editor-in-chief, revealed that the video and audio recordings of Assange in the embassy were being copied from computer servers of UC Global. Two days later, Assange was arrested at the embassy after the government of Ecuador withdrew his asylum and invited the British police into the building.
These revelations caused Judge José de la Mata of the Spanish High Court to open an investigation into UC Global. Morales, the founder CEO, was arrested in September 2019 and Spanish police searched his company's offices, seizing hard disks and documents. After he was released on bail , Morales proceeded to dissolve UC Global in June 2020.
Three former employees of UC Global have since come forward to testify against Morales in the Spanish courts, stating that he had instructed them to install hidden microphones in fire extinguishers, download data from the cellphones of his visitors, and steal copies of Assange's written notes. One of the employees also claimed that Morales had discussed a plan to unlock the embassy to facilitate a "kidnapping" of Assange and "even the possibility of poisoning Mr. Assange."
At a November 2020 hearing into the matter, Michel Wallemacq, UC Global's former head of operations, denied that the company had spied on Assange. "The only microphones hidden to record meetings were installed by the team of Julian Assange," Wallemacq told the Spanish court.
For his part Morales has deflected blame on to the government of Ecuador. "The Ecuadorian government has the complete right to take the actions that [it] considers [it needs] to prevent the protection of their interests, especially with a person that was interfering continuously against their foreign affairs issues," he wrote in an email to Yahoo News. "What the SENAIN or the Ecuadorian government did with the information ... if they share or not with other entities ... that is not my responsibility."
Meanwhile, the U.S. Justice Department has failed to respond to the Spanish court's repeated request for information for details on the IP addresses that accessed UC Global's computers from the U.S.