South Dakota Farmers Defeat Midwestern Carbon Capture Project
Image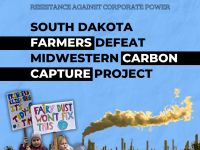 Navigator CO2 Ventures proposed to build a 2,000 kilometre pipeline to transport carbon dioxide from ethanol plants to be stored underground in southern Illinois. Environmentalists, farmers and landowners joined forces to oppose the Heartland Greenway pipeline which was canceled after it was denied a construction permit by the South Dakota Public Utilities Commission.
"This pipeline doesn't have anything to do with creating energy for South Dakotans. Not a single South Dakota farmer testified in favor of this project. My conclusion is that this project would substantially impair the welfare of the inhabitants." - Chris Nelson, South Dakota Public Utilities Commissioner.

Heartland Greenway Project
Navigator CO2 Ventures, based in Dallas, Texas, proposed a US$3.5 billion pipeline that would take 15 million tons of carbon dioxide generated by about 20 ethanol fuel plants in the U.S. Midwest and transport it via Iowa, Minnesota, Nebraska and South Dakota to be buried underground in Illinois. The company was hoping to cash in on millions in federal government 'carbon capture' subsidies.
Carbon Capture
Carbon capture technologies that take smokestack carbon emissions and bury them underground are intended to limit global warming. Proponents say they can reduce carbon emissions by 90 percent but recent studies show that they only capture 10-20 percent. Nonetheless, governments have proposed billions of dollars in subsidies to bankroll such projects.
Pipeline Rupture
A carbon capture pipeline owned by Denbury Gulf Coast Pipelines ruptured in Satartia, Mississippi, in February 2020, releasing carbon dioxide. Some 200 people had to be evacuated and 45 were hospitalized near the site. First responders reported people lying on the ground shaking and unable to breathe. Respiratory issues have been reported in the community three years later.
Coalition Building
Groups like Dakota Rural Action and Iowa Citizens for Community Improvement joined forces with NGOs like the Sierra Club and Food & Water Watch to oppose the project and to demand a moratorium on carbon pipelines. Local landowners and farmers also showed up in force to an August 2023 hearing of the South Dakota Public Utilities Commission to oppose the pipeline.
"These carbon pipelines will not reduce emissions—they are dangerous, wasteful schemes to prolong and expand polluting industries. Instead of throwing away money supporting polluters, the government should invest in proven clean energy solutions, not carbon capture pipe dreams." - Emily Wurth, managing director of organizing for Food & Water Watch.
Permit Denied
South Dakota Public Utilities Commission unanimously denied a permit for construction of the pipeline in September 2020. Chair Kristie Fiegen said that the company had failed to notify local landowners properly nor could it prove that it would not harm them. Shortly after, Navigator announced that it would abandon the project and withdrew all permit applications. 
"As good stewards of capital and responsible managers of people, we have made the difficult decision to cancel the Heartland Greenway project. We are disappointed that we will not be able to provide services to our customers and thank them for their continued support."
This is #65 in our series of Instagram infographics on resistance against corporate power.
Click here to see the full post on Instagram.
📸 Global Climate Strike 2019-03-15 by Garry Knight