Resisting Elbit Systems: An Arms Company Involved in Attacks Against Palestine
Image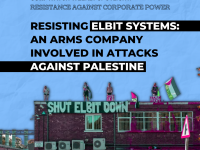 UK-based activist group called Palestine Action, founded in 2020, is seeking to shut down all current UK locations of Elbit Systems over its role in Israeli attacks on Palestine.
Why is Palestine Action doing this?
Elbit Systems provides the Israeli military with the majority of its killer drones, ammunition, aircraft equipment – all have been used to terrorize Palestinians. Human Rights Watch has documented the fact that Elbit drones were used in Israel's 2009 Operation Cast Lead attack, which killed over 1,400 Palestinians.
Elbit's drones were also used extensively during Operation Protective Edge – the summer 2014 onslaught on Gaza in which over 500 Palestinian children were killed – according to research conducted by Who Profits, an independent research center.
"They literally test their weapons on the Gaza strip – where the majority of the population is children. Then they go around the world and market it as "battle tested" to other oppressive regimes, and make billions and billions in profits from the destruction of our lives and our livelihoods." — Shahd Abusalama, Palestinian academic and refugee from Gaza
"Knowing this factory was killing our brothers and sisters in Palestine, we felt a duty to do something." — Navaid Afzal, United4Palestine campaign in 
Direct action as resistance
Palestine Action takes direct action by blockading entrances, climbing onto the roof of Elbit's sites, dismantling its machinery as well as splashing bright red paint all over its buildings to symbolize bloodshed. By repeatedly occupying and halting operations at different factories, Palestine Action has cost Elbit Systems millions in losses.
Biggest achievement
Palestine Action has permanently shut down Elbit System's arms factory in Oldham, near the city of Manchester. After an 18-month long campaign, including a human blockade of the front gates to prevent workers from going in, damage to the property, and splashing the building with red paint, Elbit Systems decided to sell the site in January 2022.
"Direct action works – the brave individuals who occupied the factory over the past year can proudly say that drone technologies are no longer in production in Oldham." — Palestine Action
"Hats off to our brothers and sisters of Palestine Action!! You did it, we are proud to stand alongside you." — Roger Waters, co-founder of Pink Floyd
"An important victory worth celebrating." — Lowkey, rapper and activist
What does the company say?
In its statement on business ethics and conduct, Elbit Systems says: "We conduct our business activities in accordance with best practices relating to the human rights of our workforce, our supply chain and our surrounding communities. We adhere to the UN Guiding Principles on Business and Human Rights." 
This is #7 in our series of Instagram infographics on resistance against corporate power.
Click here to see the full post on Instagram.