Pennsylvania Community Defeats Aqua America's Bid to Privatize the Sewage System of Bucks County
Image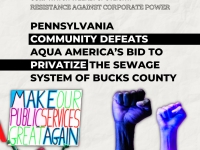 Aqua America, a subsidiary of Essential Utilities of Bryn Mawr, Pennsylvania, made an unsolicited $1.1 billion bid in 2020 to buy the sewage system of Bucks County in Pennsylvania. The deal would have been the largest sewage privatization deal in U.S. history. Residents of the county stopped the deal from happening, with the help of grassroots organizations and local county officials.
"There's abundant evidence [that a sale to Aqua would lead to] steep rate hikes, job losses and diminished services." – Organizer from Neighbours Opposing Privatization Efforts (NOPE)
Why did the local county want to sell? 
Bucks County Water and Sewer Authority (BCWSA) officials claimed that the purchase offer of $1.1 billion would allow the county to reduce its debt, increase services and cancel property tax increases. Not least, the county is projecting that it will have to spend $250 million on repairs and upgrades of the sewage system in the near future.
Who is Aqua America?
Aqua America currently controls water and sewer systems in many counties across 8 U.S. states and has some 30 pending purchases in 11 states. Residents of New Garden, a municipality in Pennsylvania, experienced a 42 percent increase in monthly bills after Aqua purchased the local sewage system in 2017.
Why did residents oppose the deal?
Bucks County residents were concerned that private management of the sewage system would lead to higher utility bills. Although Aqua proposed to freeze the current sewage rates for a year, annual rates were projected to double from $576 to $1,056 in subsequent years. The residents were also concerned that Aqua would try to buy up the local water system next.
"My community — we're all on fixed income. So obviously we are concerned about rates. We need water. It's about not having control as a rate-paying customer." – Margo Woodacre, resident of New Garden
"We would have lost all control to hedge funds and corporations. We would have lost jobs and rates would have gone up." - Tom Tosti, director of local branch of the American Federation of State, County and Municipal Employees (AFSCME) union.
County commission votes no
The three commissioners who govern Bucks County unanimously opposed the sale. 
"I have carefully reviewed all information available regarding this sale and cannot recommend that the BCWSA continue to entertain Aqua, Inc.'s proposal," – Dianne Ellis Marseglia, Vice Chair of Board of County Commissioners.
"While we were surprised and disappointed by the sudden turn of events yesterday, we respect the opinions of the Bucks County elected officials and have offered to remain a resource to them."
This is #22 in our series of Instagram infographics on resistance against corporate power.
Click here to see the full post on Instagram.