Palm Oil Giant SOCAPALM to Return Sacred Land Back to Mbonjo Villagers in Cameroon
Image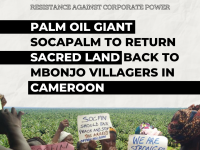 Société Financière des Caoutchoucs (Socfin) operates a 58,000-hectare palm oil plantation around the town of Mbonjo in west Cameroon that it acquired from the government of Cameroon in the year 2000. After two years of negotiations, villagers were given back three hectares of sacred land that contain ancestral graves as well as where they grow traditional medicinal plants.
"We informed them that we have sites in their plantations where we perform our rituals and buried our dead." – Emmanuel Elong, president of SYNAPARCAM (National Association of Peasant and River Populations of Cameroon)
SOCAPALM
Société Camerounaise de Palmeraies (SOCAPALM) was created in 1968 by the government of Cameroon to support smallholder farmers who sold palm oil to the government at fixed prices. In the year 2000, SOCAPALM was privatized and sold off to the Socfin Group, a palm oil conglomerate based in Luxembourg, which is controlled by companies operated by Vincent Bolloré and Hubert Fabri.
Land Grabbing 
The government of Cameroon awarded Socfin the right to develop 58,000 hectares of land surrounding Mbonjo, despite the fact that there were local communities who lived in the area and farmed the land. Over the last decade, Socfin has militarized the area and forcibly converted the land into palm oil plantations. 
"The soldiers sleep here outside by the kitchen. They find your nuts roasting on the stove. They accuse you of stealing SOCAPALM's nuts. If you deny it, they threaten you, confiscate the nuts and sometimes destroy your stoves." - Martine Amougou, community elder
Greenwash Complaint
Local communities filed complaints against SOCAPALM to the Roundtable on Sustainable Palm Oil (RSPO) – an industry certification body in 2020 and 2021. An RSPO investigation in 2022 confirmed some of the claims of land grabbing, pollution and sexual harassment made by the community but refused to decertify SOCAPALM, choosing instead to issue a set of policy recommendations for the company to implement.
Lawsuit Blizzard
NGOs in Europe have taken up the cause – and the company has fought back with a blizzard of 20 lawsuits against the activists as well as against journalists who wrote about the case. In May 2019, Sherpa, an NGO in Paris, counter-sued the Bolloré group in French courts to abide by promises it made to plantation workers and local communities in Cameroon in 2013.
Community Success
 
In January 2021, SYNAPARCAM joined hands with a group of local chiefs to ask SOCAPALM to return five key sites covering some 30 hectares to the local community. The company finally agreed to return about three hectares in May 2023. 
Company Response
"We are formalising the boundaries agreed with the Government and in agreement with the villages around our estates," SOCAPALM told Mongabay in 2020. In 2023, the company added that it is committed "to guaranteeing access and usage rights for the sacred sites to the communities involved."
This is #44 in our series of Instagram infographics on resistance against corporate power.
Click here to see the full post on Instagram.