Krill Harvesting by Aker BioMarine Destroying Antarctica, Say Activists
Image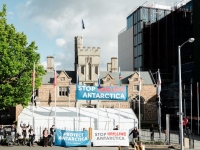 Krill - tiny pink shrimp-like crustaceans that live deep in the ocean - are being harvested at an alarming rate by Aker BioMarine, a biotechnology company, to be sold as fish farm feed, pet food and dietary supplements, according to "Krilling Antartica," a new report by the Bob Brown Foundation.
The new report argues that Aker BioMarine (together with other krill harvesting companies) are destroying a resource of critical importance to Antarctica's food chain. The krill provide over 96 percent of the calories consumed by seabirds and marine mammals. They are also one of the world's largest carbon sinks because they remove up to 23 million tons of carbon from the Earth's atmosphere per year.
Aker BioMarine, which is based in Oslo, Norway, catches approximately 70 percent of all krill sold globally. It does this with the help of three industrial super trawlers that vacuum up tons of krill (sometimes referred to as "pink gold") at the bottom of the ocean every day. (The other major companies - which are listed in the report - include China National Fisheries Corporation, Dongwon, Fujian Zhengguan Fishery Development, Jeongil, Jiangsu Sunline Deep Sea Fishery Company and Pesca Chile.)
The Krilling Antartica report is based on first-hand evidence gathered by Bob Brown Foundation researchers.
"We were at the bottom of the world in an incredibly beautiful place," Alistair Allan, Antarctic campaigner at the Bob Brown Foundation and former ship captain for the protest group Sea Shepherd, told CorpWatch. "There were so many animals in the water - penguins, birds and whales. And it just felt like the ocean was moving. The next minute this 130-meter trawler rolls through the whole area pulling out the krill, whales swimming to get out of the way, penguins trying to jump out of the way of the nets."
"Aker BioMarine is acutely aware that fishing in Antarctica is a flimsy social license from the beginning," Allan added. "They know that the fishery doesn't look good simply because there are massive super trawlers in one of the last great wilderness areas."
Allan also notes that the krill trawlers often mistakenly catch seabirds, seals, and whales – such as the times when Aker BioMarine's trawling nets killed a humpback whale and three juveniles between 2021 and 2022.
The company says that it uses sustainable fishing practices. "You will struggle to find any fishery in the world that takes out a smaller ratio from what the biomass is believed to be," Pål Skogrand, vice president of policy and impact for Aker BioMarine, wrote in an email response to CorpWatch questions. "Today less than 1 percent of the krill biomass in the fishing area is harvested." He described the whale kills as "unfortunate" and noted that the company has improved its technology to ensure that such incidents would not occur again.
Marketing Krill
Image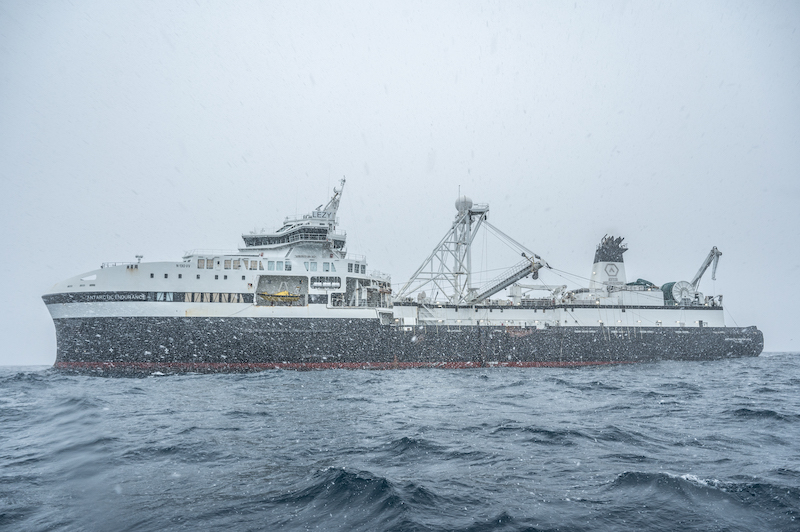 Aker BioMarine is a subsidiary of Aker ASA which was founded by billionaire Kjell Inge Røkke, Norway's richest man in 2021. A high-school dropout who began his career working as a fisherman, Røkke made his fortune from ocean-related ventures including significant investments in drilling for fossil fuels.
When Aker BioMarine was created in 2006, it transformed the decades-old krill fishing industry, according to the Changing Markets Foundation, by marketing the oil derived from krill as a dietary supplement. Krill oil contains Omega-3 acids, an essential fat that the human body can only obtain from food. (Indeed, this public relations push was so successful that Aker BioMarine was awarded the European Business Award for Innovation.)
Skogrand says that the company has invested heavily in research to support krill oil sales. "Aker BioMarine has invested in clinical studies across various health categories including, but not limited to joint, heart, brain, and liver health as well as sports performance, muscle strength and more. One major focus area for us currently is healthy aging. By regularly investing in studies, we are expanding the evidence base for the multiple health benefits delivered by krill oil," he wrote in his email to CorpWatch.
"We invest on our own as well as with partner companies, scientists and universities. To date, we have contributed to more than 200 articles and more than 50 studies related to krill oil benefits for human health published in world renowned top tier journals, highlighting the credibility, relevance, and strength of the study outcomes," he added.
The company has also chosen to partner with environmental groups. In 2018, Aker BioMarine was one of the eight krill fishing companies that signed an agreement with Greenpeace, Oceanites, Pew and WWF to establish an ocean sanctuary around the penguins' key breeding colonies in Antartica. The companies pledged to keep their trawlers outside the sanctuary during incubation and chick-rearing season, a pledge which they have so far upheld.
But activists point out that because these exclusionary zones are voluntary, they are neither monitored nor enforced, and they don't actually limit the company's ability to fish more in other areas. "It didn't really matter that they excluded those areas because they just went to other areas," Allan says. "It became pretty obvious that these exclusion zones were just chosen by industry but didn't actually have the desired effect of limiting stress on penguins."
Greenwashing
Image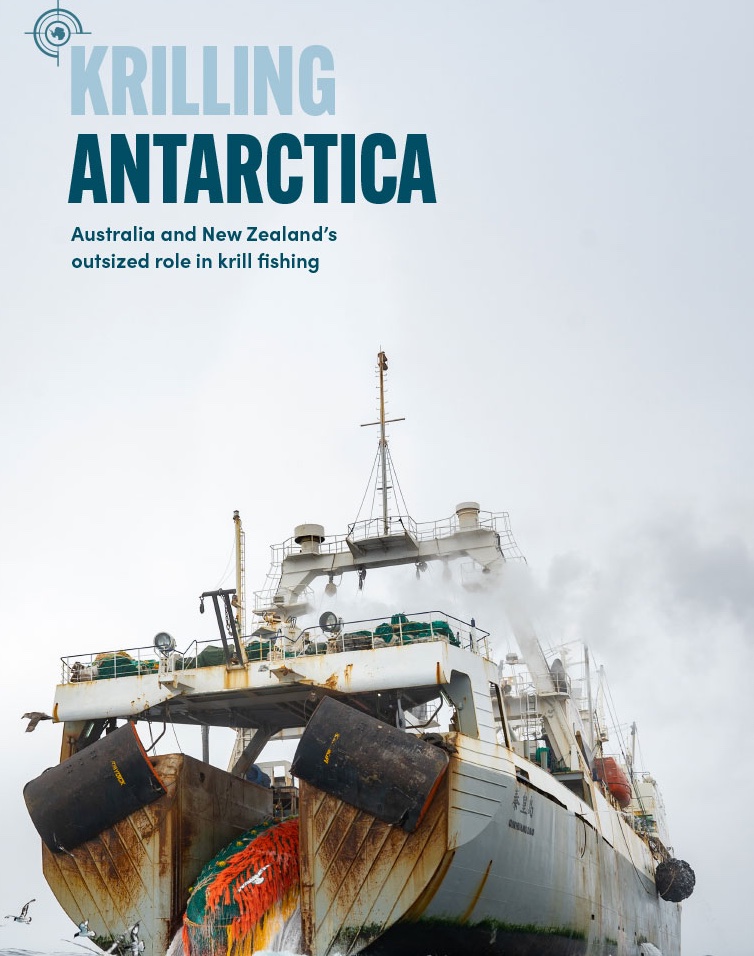 The Bob Brown Foundation says that Aker BioMarine has attempted to greenwash its image by creating and funding groups like the Antarctic Wildlife Research Fund, which the company set up in 2015, together with two environmental NGOs - the Antarctic and Southern Ocean Coalition and WWF-Norway. (Senior executives at the Fund include Skogrand himself together with Sigve Nordrum, executive vice-president of animal health and nutrition at Aker BioMarine as well as Elisabeth Røkke, Kjell Inge Røkke's daughter.)
Likewise, Aker Biomarine is a major supporter of the Association of Responsible Krill, which conducts research on board Aker BioMarine's vessels, and is headed by a former Aker Biomarine company executive.
"For the industry hoovering-up the most important part of the Antarctic food web to be putting its krill-gotten gains into this greenwash really is a pill that's hard to swallow," Willie Mackenzie, oceans campaigner at Greenpeace International wrote.
The company says it is not aware that it has been accused of greenwashing. "Concerns of greenwashing is not something that has been raised to me in my conversations and dialogue with our environmental stakeholders," Skogrand wrote. "We welcome any engagement and discussions on our business and industry, especially from NGO's."
Call for Moratorium
But the Bob Brown Foundation together with NGOs like Changing Markets have called for a complete moratorium on krill fishing in Antarctica, and eventually a complete ban.
"For me, there is no such thing as sustainable krill fishing. Those ships are burning a huge amount of fuel to travel to the end of the world, to catch a species that we don't need, that they're trying to find uses for," says Allan. "It's at that delicate tipping point where we can either see krill fishing reduce and stop or it will take the next evolution and get bigger and bigger, especially as the rest of the world's oceans begin to run out of fish."
Skogrand disagrees. "From time to time, you will get calls to end the krill fishery mostly based on ethical perspectives that "you should not take krill out of the ecosystem". We are comfortable with what we do," he wrote.