KLM's 'Green' Planes Fly Into Controversy
Image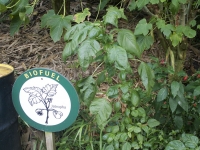 KLM, the Dutch airline, has been forced to backtrack from a plan to use oil from jatropha seeds grown in Indonesia for commercial flights. After Friends of the Earth Netherlands (FOE NL) put out a report criticizing the potential impact on local food supplies, the airline company scrapped the idea earlier this month.
The February 2012 FOE NL report: "Biokerosene: Take-off in the wrong direction" examined the impact of a Dutch company named Waterland International, as well as the "dangerous myth of green flights."
KLM and Lufthansa have been conducting biofuel flights since last July. The pilot scheme is intended to reduce dependency on fossil fuels like petroleum and to slow down climate change. In reality, biofuels produce as much greenhouse gases as other carbon based fuels, and create a different set of problems.
The plan for "sustainable" airline flights is partly state supported. In Europe, KLM was awarded a subsidy of €1.25 million ($1.61 million) by the Dutch ministry for transport in April 2010 to pursue "bio-fuels" while Lufthansa was given €2.5 million ($3.25 million) by the German federal ministry of economics and technology. Meanwhile the Indonesian government backed a scheme to grow jatropha plants on government-owned lands controlled by the State Forest Company, notably on a former Dutch colonial teak estate in central Java.
"Jatropha, it was promised, would grow well on marginal and waste lands, was inedible and so would not compete with food production," write the authors of Biokerosene. "It would help with reforestation, and prevent further soil erosion, even enriching the soil with nutrients. Jatropha would not require a lot of attention once planted, no fertilizers, herbicides or any significant amounts of water. Farmers would be able to lie back and watch the money grow in the form of jatropha oil seeds."
Geert Ritsema, international affairs coordinator at FOE NL, decided to investigate. A team traveled to central Java in late 2011 to meet with the jatropha farmers. They interviewed Suwarto, a farmer who was appointed supervisor of Wono Rejo, a farmers' cooperative in a village named Tirem that had been convinced to grow jatropha plants from Waterland.
Suwarto says he earned 200,000 rupiah ($22) from the crop, a third of what he would have made had he planted corn. Moreover, people could have eaten the corn and the leaves could have been fed to the cattle. The jatropha plant had no such practical uses.
"At one point they got so mad, that they even turned their sickles on me," Suwarto told FOE NL. "I asked Waterland, what they would do to help, when things turned violent and people were being physically threatened. Would they be there to protect me?"
Mrs Rumiyati, a laborer, confirmed the financial hardships created from jatropha cultivation. "If we go to help in other people's rice or corn fields, we get 15,000 rupiah ($1.70) for half a day' s work, and we get a free breakfast," she told told FOE NL. "Picking jatropha for Waterland just earns us 7,000 rupiah ($0.78) at best, and no breakfast. This is really very, very low."
"Not a single word was said about the Javanese farmers and workers, who have converted some of their land from food to fuel crops, in return for ridiculously low payments. For them, the introduction of jatropha has led to a fall in income, conflict and frustration," concluded FOE NL.
After the report was released in February, KLM seems to have reconsidered the scheme. "KLM has informed Milieudefensie that it will not do business with Waterland. KLM has also told Milieudefensie that it has no current or future plans to directly or indirectly purchase raw materials to produce biokerosene from Waterland," says a press release from the environmental group.
FOE NL says that more needs to be done: "The only solution to the problem is to reduce air traffic, foremost in Europe," writes FOE NL in Biokerosene. "This might not be a welcome message for the aviation industry or for frequent fliers, but it is a blessing for poorer people in the South who suffer twice: from the effects of climate change and from the loss of valuable land which is used to grow fuel instead of food."
AMP Section Name:
Transportation