Kenyan Court Orders Facebook Moderation Contractor to Pay Its Workers Back Wages
Image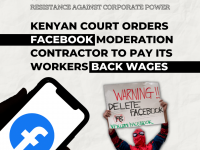 184 workers sued Sama Al, a contractor paid to moderate Facebook content in Africa for firing them illegally, after the company decided to not to renew its contract. A Kenyan court barred the company from laying off workers and ordered Sama to continue working for Facebook. When Sama disobeyed and stopped paying staff salaries, the court ordered Sama to pay back wages. 
"Daniel's win today should send a message to Facebook, and by proxy, all of Big Tech in Africa. Kenyan justice is equal to any tech giant, and the giants would do well to wake up and respect Kenyan people - and their law." – Cori Crider, director at Foxglove
Background
Facebook's parent company contracted Sama Al to moderate illegal and hateful content on the social media platform across Africa. Some 260 workers from around Africa were hired to work at the company's offices in Nairobi, Kenya, for US$2.20 an hour. The work was deeply traumatic – workers had to watch videos of murders, rapes, suicides and child sexual abuse on a daily basis.
Forced labor
Daniel Motaung, a former content moderator who says he was fired for organizing workers to start a union in 2019, sued Meta (Facebook's parent company) and Sama. Mercy Mutemi of Nzili & Sumbi Advocates in Nairobi, his lawyer, alleged that Sama subjected workers to forced labor, human trafficking, deceptive hiring techniques and union busting.
Workers laid off
Shortly after the lawsuit, Sama announced it would not renew its contract with Facebook once it expired in March 2023. In April, 260 workers were laid off - putting some at risk of being deported. 184 workers sued Sama for not giving them the required 30-day notice and for blacklisting them, making it hard for them to get jobs with Majorel, the replacement contractor. 
"Without us, social networks cannot exist. Nobody is going to open Facebook when it's just full of graphic content, selling narcotics, blackmail, harassment. It is damaging and we are sacrificing (ourselves) for our community and for the world... We deserve better treatment." – Trevin Brownie, former Sama content moderator.
Sama defies court
In March 2023, Nairobi's employment and labour relations court ruled that Sama could not lay off workers without proper notice. The court also ordered Facebook to stop the new contract with Majorel and restore the Sama contract. Sama defied the court by claiming it had no work for the fired moderators and refused to pay them for the month of April. 
Second victory
Over 80 Sama moderators staged a sit-in protest in front of the company's headquarters in Nairobi on April 28, 2023, demanding to be paid. The workers also asked the court to compel Sama to pay them. On June 2, 2023, Judge Byram Ongaya ordered Sama to pay back wages and noted that Facebook was the 'true employer' of the moderators.
Company response
"[Sama] takes all orders from the court seriously and will continue to follow the detailed advice provided by our counsel to ensure we are working within the bounds of local law, [however], [the] hearing hasn't changed previous advice — Sama is continuing to pay all moderators who have valid contracts, [and will not pay those who] were hired on term contracts that ended at the same time as the expiry of the moderation contract with Facebook." – Sama press statement
This is #50 in our series of Instagram infographics on resistance against corporate power.
Click here to see the full post on Instagram.