Indigenous Communities in Borneo Defeat Radiant Lagoon's Proposed Palm Oil Plantation
Image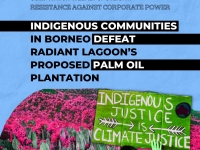 In 2008, Radiant Lagoon Sdn Bhd was granted two palm oil concessions covering an area of 4,400 hectares (10,900 acres) adjacent to Gunung Mulu National Park, the only UNESCO World Heritage site in the Malaysian state of Sarawak. In 2018, the company began logging the area without obtaining required permits. After a group of local Berawan and Penan Indigenous peoples sued the company and a major online campaign, the government of Sarawak cancelled the concessions.
"The Penan are the protectors of the forests and are grateful that the plantation development plan is now history." – Komeok Joe, head of Keruan, an NGO representing Penan peoples
History of the land
Gunung Mulu National Park was established in 1974 to protect the limestone formations, caves and mountain rainforests. The region is home to Berawan/Tering and Penan Indigenous communities who have traditionally lived, hunted and farmed in the area. 
Who is Radiant Lagoon?
The concessions were secretly awarded in 2008 by Taib Mahmud, who ruled Sarawak as chief minister for 33 years, to Radiant Lagoon, a company linked to his son, Mahmud Abu Bekir Taib. In 2016, Radiant Lagoon was bought by Double Dynasty Holdings, a real estate company in Kuching, Malaysia, which is owned by Yee Ming Seng. Yee obtained a $US31.5 million loan from United Overseas Bank in Singapore to turn the land into a palm oil plantation.
Deforestation begins
In 2018, Radiant Lagoon started logging the concessions without a timber permit. A 2019 investigation and report by Bruno Manser Fonds, a Swiss NGO, estimated that the company had extracted $10 million worth of timber from the area.
Community resistance
After the company began logging in 2018, community residents blocked access to the area. In 2019, the logging was stopped amid tensions between the workers and residents. Bruno Manser Fonds launched an online video and website campaign to save the area. Community residents travelled to Europe to lobby the European Union, the International Union for the Conservation of Nature (IUCN) and UNESCO. They handed a petition signed by 191,000 people to the Malaysian embassy in Brussels.
"We have come all the way to Brussels to make clear that we want our rights respected and the forest left intact. The Mulu plantation has to be stopped and the land given back to the Dayak people." – Willie Kajan, a Berawan activist from Kampung Melinau.
Lawsuit and government response
In August 2019, 14 plaintiffs representing ten Penan and Berawan villages filed a lawsuit at the High Court of Sabah and Sarawak in Miri to stop the plans for the palm oil planation. Before the court could hear the case, the government of Sarawak decided to cancel the concession to Radiant Lagoon in October 2022.
Company response
The company does not have an official website and a company response has not been found.
This is #23 in our series of Instagram infographics on resistance against corporate power.
Click here to see the full post on Instagram.