Garmin Rehires Pregnant Vietnamese Migrant Worker Who Was Fired Illegally
Image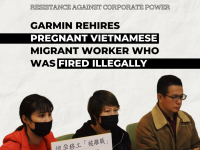 Bui Thi Nhung, a Vietnamese migrant worker working in New Taipei, Taiwan, at the technology giant Garmin informed management that she was pregnant in March 2023. Shortly after, Nhung was given untranslated resignation documents to sign which she felt obligated to comply with. After labor and human rights organizations raised an alarm, Garmin agreed to rehire Nhung. 
"If Garmin cannot guarantee the protection of pregnant migrant workers, this means treatment for female migrant workers at small and medium-sized enterprises in Taiwan must be even less fair." – Lai Hsiang-Ling, legislator from the Taiwan People's Party and former head of Taipei's Department of Labor
Migrant workers in Taiwan
Some 150,000 Vietnamese citizens migrate abroad each year to countries like Japan and Vietnam. They pay recruiters roughly €6,150 (US$5750), equal to over two years wages at home. They hope to make NT$32,000 (US$1,000) a month in Taiwan, roughly five times more than they would in Vietnam where minimum wage is 4.68 million dong (US$2,000) a month. 
Bui Thi Nhung
Bui Thi Nhung is a migrant worker from Vietnam working at Kansas-based GPS maker Garmin's Xizhi factory in New Taipei, Taiwan. Nhung told her managers that she was pregnant on March 17, 2023. She was placed on sick leave and shortly after she was given resignation documents in Chinese. Unfamiliar with Taiwan's labor laws, Nhung signed the documents.
Gender Equality Act
Nhung was not aware that Taiwan has a law protecting pregnant migrant workers. Article 11 of Taiwan's Act of Gender Equality in Employment states that it is illegal for employers to use pregnancy as an excuse for termination. Also the Labor Standards Act guarantees 8 weeks of maternity leave for all employees.
Public Outcry
Taiwan Association for Human Rights and Serve the People Association decided to take on Nhung's case. They held a press conference in April 2023 with Lai Hsiang-Ling, former head of Taipei's Department of Labor, to denounce Garmin and to condemn Garmin for violating Taiwanese laws and the standards of the Responsible Business Alliance.
Reinstatement
Shortly after the press conference was held, Garmin agreed to give Nhung her job back. The company also stated that they would implement internal policy changes to prevent similar incidents in the future.
Company Response
"The colleague [Nhung] voluntar[il]y terminated the contract and submitted a statement of resignation, expressing her wish to return home to give birth, and set the last working day as March 17." - Garmin statement on April 28, 2023. 
Eight days later the company agreed to re-hire Nhung.
📸 Serve the People Association
This is #47 in our series of Instagram infographics on resistance against corporate power.
Click here to see the full post on Instagram.