Freestone Mines Private Ltd Backs out of a Quarrying Project in Mutare, Zimbabwe, After The Community Takes Them to Court
Image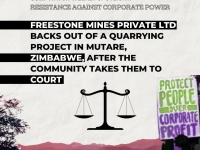 In November 2021, Freestone Mines, registered in Harare, Zimbabwe, obtained mining rights to quarry for stone at a site on the Dangamvura Mountain, located in the middle of Mutare, a city in eastern Zimbabwe. In February 2021,  Freestone backed out of the project after the Centre for Natural Resources Governance Zimbabwe (CNRG), a civil society organization, took Freestone Mines and the Zimbabwe Environmental Management Agency to court. 
"Every mining corporation must understand that it goes beyond getting a licence from the minister of mines. The communities have to be told adequately what's going on because it's their roads you're using, their water you're drawing. We lawyers call it prior informed consent." – Manson Gwanyanya, Regional Researcher & Representative at Business & Human Rights Resource Centre. 
Community frustration 
Freestone Mines signed an agreement with Mutare local authorities to lease 6.5 hectares of land for $629 per month for 10 years, with the first 8 months free of charge. The local residents called the agreement a "joke" and stated that the company had failed to consult with them about the project. 
"Blasting echoes would've cracked city homes; ancestors' spirits would've decreased rainfall, and tripled lightning strikes. It's unthinkable that Freestone Mines didn't even bother to talk to us first." – Jairos Mayo, an elder from Dangamvura (a township in Mutare) who has led Indigenous African rituals on the mountain for the last decade.
Violation of mining laws
CNRG says that Freestone Mines violated the Zimbabwe Mines and Minerals Act by mining within 50 metres of the city limits. But the company disagreed. "We are a law-abiding company. We legally had all the permits and documents," Qi Ruoxin, director of Freestone Mines.
Backdated license, project cancelled
On November 21st, 2021 Freestone officials said that they were awaiting a license to begin mining. The final license, however, was dated September 27th, 2021. CNRG took the company to court in February 2022, alleging that the license had been illegally backdated. In late February 2022, Firestone Mines withdrew its application and canceled the mining project.
Company response 
"Freestone Mines Pvt Ltd took notice of the resistance from different people and stakeholders who are totally against the project. Freestone Mines, has through its lawyers, given a written notice of its Intention to cancel the lease agreement." - Lawyers for Freestone
"The cancellation by Freestone Mines is a welcom(e) development as it has pacified sour relations over the deal. It shows that council listens to residents and stakeholders. We have learnt a lesson that whenever council wants to embark on any project it must consult all affected stakeholders widely." - Farai Bhiza, Deputy mayor of Mutare
This is #18 in our series of Instagram infographics on resistance against corporate power.
Click here to see the full post on Instagram.